We know that you love crafts, so today in Decoration 2.0 we tell you how to make beautiful flowers from colored buttons. With them and a beautiful vase we can decorate any room of our home.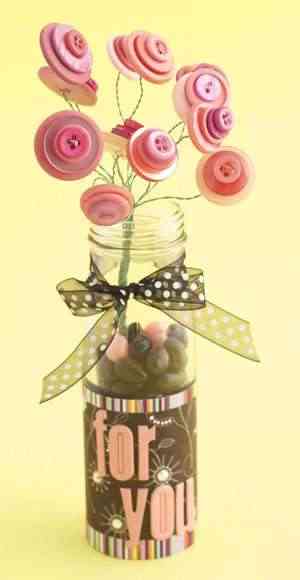 We can use buttons of the colors that we like, this time they have been chosen in a pink color. In this way, a floral composition has been made by joining, with thread and needle, piles of buttons of different tonalities and different measures. In this way, each flower has been shaped.
Once the flowers are formed, we take the wire and shape it and fill it with green serpentine. Then just locate each flower on the wire.
Done the flower bouquet, we choose a beautiful vase or a glass jar that we like and fill, the interior, candy colors, marbles, stones or seeds and we add a beautiful ribbon.
Finishing we can place the flowers on a table, in a nice corner or in any room next to the window.