The thematic decoration is one of the most complex trends to achieve, since each piece of furniture and ornamental layout, should be oriented to specific characteristics that turn the space into an artistic representation of the desired theme.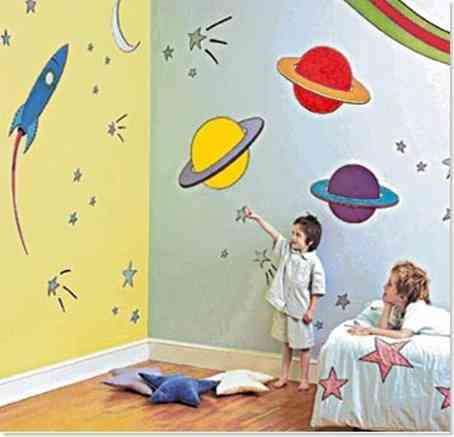 How result of this laborious work, we will have spaces destined to certain practices, or focused on highlighting particular activities, those who most enjoy this type of decoration, are the smallests, thanks to its imaginative capacity and the results are incredibly enhanced.
Framed in this theme, we will highlight the spatial decoration, a wonderful way to convert the Our little boy's bedroom in a creative representation of the universe, is one of the many alternatives that we will find when looking for a thematic decoration for children.
Within alternatives and more outstanding variables in the personalization of these spaces, we find the reflectors of stars, decorative and didactic objects, capable of projecting in the bedroom of the small star constellations, in the market you will find several models including some of them, designed to promote the cognitive capacity in infants by means of the stimulation that is carried out by means of reading and functional music.
Other element ornamental didactic, are the so-called mobile solar systems, hanging pieces that represent the planetary shapes to scale, are composed of luminaires and are called mobile because the small can represent their orbits by moving the pieces of the object.
On the other hand as in other trends, the imagination becomes evident at the time of decorating and without a doubt the presence of it, is noticed in ornamental highlights and pieces of furniture completely original, conformed in many cases of simple and everyday elements.