If you are looking for an original touch for the decoration of the table, today in Decoration 2.0 we propose an idea both fresh and original. Using fruits, as centers, has become something already well known.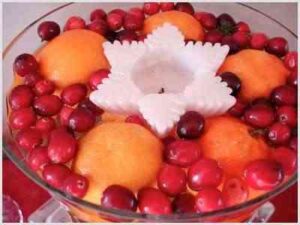 The fruits they can become the protagonists of our decoration. The theme is quite versatile because we can select from a huge range of fruit, pieces to be part of the best compositions and sets.
Cherries, watermelons, oranges, or apples ... choose your favorite fruits and turn them into that detail you are looking for. Center the attention of the guests at the table, of that special event.
The centerpiece of the table that we see in the image corresponds to a fairly simple work to be done. We only have to choose a container that we like, this time in a circular way.
We add water, oranges and cherries ... and finally we will place a beautiful candle that will illuminate the scene. As a final touch you can add some essence that you like or choose a candle with aroma. As you see easy solutions for the best decoration.