For the decoration of your table facing a special dinner or simply by adding a touch of color and an original article, today in Decoration 2.0 we tell you how to make this wonderful centerpiece.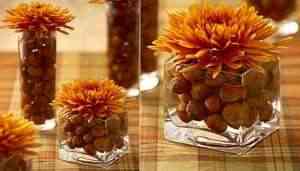 We will use materials natural and easy to obtain. For this, what we will need will be:
- A glass base that we like
- Nuts or any other nut
- Some water
- Flowers that we like
Pay special attention to the colors that fit our space, remember to have the furniture you have and the color of the walls. You can make a monochromatic center or using a variety of colors. Also plays, for your compositions, with shades of the colors used.
First we will do with a glass base or a container that we like. This will be cleaned very well and filled with nuts. Then we will pour some water and place one or several flowers in the upper area.
As you can see, the simplest ideas are those that, many times, call more attention. In this way we have obtained a great and elegant centerpiece that will be the protagonist of all our looks.