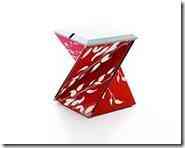 The technology of digital printing applied well within the decoration of walls generating new spaces of great comfort and with young and creative looks now reaches the universe of furniture achieving true works of art with those furniture that previously went completely unnoticed.
The printed materials suggest an unstoppable tendency in the decoration of our furniture, funny, polyphasic and worthy of admiration. The manufacture of this type of pieces suggests a completely new school in the art of dressing our rooms.
This type of furniture is ideal for eclectic environments where the mixture of shapes and colors can make a difference.
This new way of conceptualizing the furniture is the letter of presentation of the French designers who find in the style French Touch an unthinkable way of conceiving revolutionary pieces in their aesthetics and their coexistence with the designed environments.
The work of creative geniuses as they are more than an ecliptic mixture, it seeks the perfect interrelation of space with new forms and colors marked by a timeless behavior of the forms where a mixture of styles and periods is achieved as the central matrix of their projects
Other creators like Philippe Starck o Serge Trigano They try to delve into the background of the history of furniture in the search for novel ideas for their creations which do not manage to be marked by an era but by their own particular style.
Furniture or art
It would not be at all strange that the French were the pioneers in implementing digital prints on furniture.
Although one of the designers who most develops the theme as a distinctive of their creations is the Japanese Tomita Kazuhiko, which achieves a mixture of shapes and colors that breaks with the rules of the current concept of furniture for living.
Aitali It is also a company dedicated to the design of furniture focused on this innovative technique, the company designed a novel chair called Aqua which is made of high strength polymers and has aquatic motifs.