How should the potential geniuses of the future live in the present? What should be an inspiration in our children's room so that they become happy and responsible adults?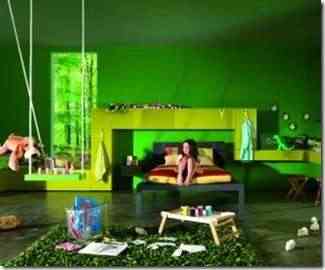 The questions are as legitimate as the answers can be surprising, at least those that came out of Daniele Lago's universe, the face of one of the most prestigious furniture design brands, made in Italy.
Lago's intentions transcend the obvious and go beyond the traditional colorful room and with children's motives, which we are used to seeing in a nursery where everything has a visual too well arranged and consensual.
This new concept of "habitat" exalts a mini revolution in regard to the decoration of children's furniture, placing the "Eco-design" as the basic concept of the entire project.
Nicknamed "John Green House", the brand designed a virtual house in the shape of a tree, built in the middle of the Amazon. Environmental concerns dictate the nickname of space decoration and are underlying their own conception.
The final result is like the designation used by the brand "an architecture for extraordinary people"
As usual in the work of Daniele Lago, nothing is left lightly and this new proposal establishes a clear intention to reverse the paths set by the interior decoration industry, opening new horizons related to the values ​​of ecology and environmental preservation.
The preservation of nature and all the values ​​related to it are the flavor of this collection of children's furniture. It is these environmental concerns that will serve as criteria for the choice of materials, colors and shapes.
In addition to the values ​​inherent to the concept itself, eco-design enhances the child's imagination so that they can develop their more creative side, interacting through formats and colors that stimulate the mind and refuse common places.
It is in this area that Lago privileges the playful aspect of this decoration and children's furniture.
The rest, will be in charge of the pekes of the house.