After seeing this piece of furniture in I can not believe… I did not know if it was a joke or it really was a piece of furniture. I discovered that it was a piece of furniture and after that I decided to check if it was a prototype that was not yet in production or a product that is already available in the market and to my surprise I discovered that yes It is on sale.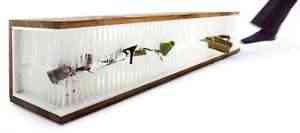 It is a curious shoemaker completely out of the ordinary. He is the one who picks up our shoes when we enter the house and throw it into the air with a kick. We will no longer have to peel walls or rub furniture because each of our shoes will go directly to this structure of wood and nylon.
It is a piece of furniture made of oak wood and with nylon bristles similar to those of a toothbrush. When throwing the shoe it will be embedded between the bristles that will cushion the blow. In the background you have installed two fluorescent tubes (28 W) that make the task of finding the shoes easier and also illuminate the hall.
It is a limited edition designed by Matthias Furch y Kai Ertel to Magazine and can be purchased by 1.980 €, a bit expensive the truth. In addition, the order page is in German. As things stand with the crisis we will settle for imagining them in our hall.
More information: Magazin