We have already given you some ideas to decorate the house and set it up for Valentine's Day. Here you have an idea more.
It is an original garland of hearts that is very original to decorate if you plan to celebrate the day of lovers.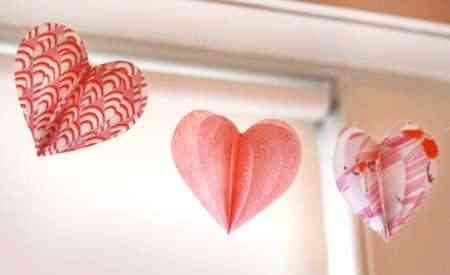 If you like, these are the materials you need and the steps you must follow to make the garland:
Materials:
Fabric or printed paper
Templates of hearts. You need four templates of hearts of different sizes
Hilo
Glue
Step by step procedure:
Cut out each piece of cloth or paper from each of the heart molds
Fold the hearts in half
Once you have cut and bent the hearts you must superimpose them one on top of the other, from greater to smaller
Unite the hearts To join them you can apply a little glue in the middle of each heart or join them by a discreet stitch
When you have as many hearts as you need your garland (that depends on the length you want to give and the separation of hearts)
Finally, to build your garland unites all the hearts in a thread. You can stick the thread through the back of the larger heart or, if you prefer, you can attach them to the thread again with a stitch.
As you can see, it can be a very original detail to add to the rest of that special Valentine's decoration. In addition, it is a very easy to make detail and also very economical.
As I always tell you, this is an idea, if you like it, apply it; but you can also take it to perform other types of projects. It occurs to me, for example, that you can use the same technique to decorate a pillow or cushion or a lamp shade.