You're thinking about renovate your kitchen or your bathroom? If the answer is yes, maybe it's time to think about putting golden faucets. An idea that is a trend and with which you can bring that extra style and glamor to revalue your home. Dare yourself!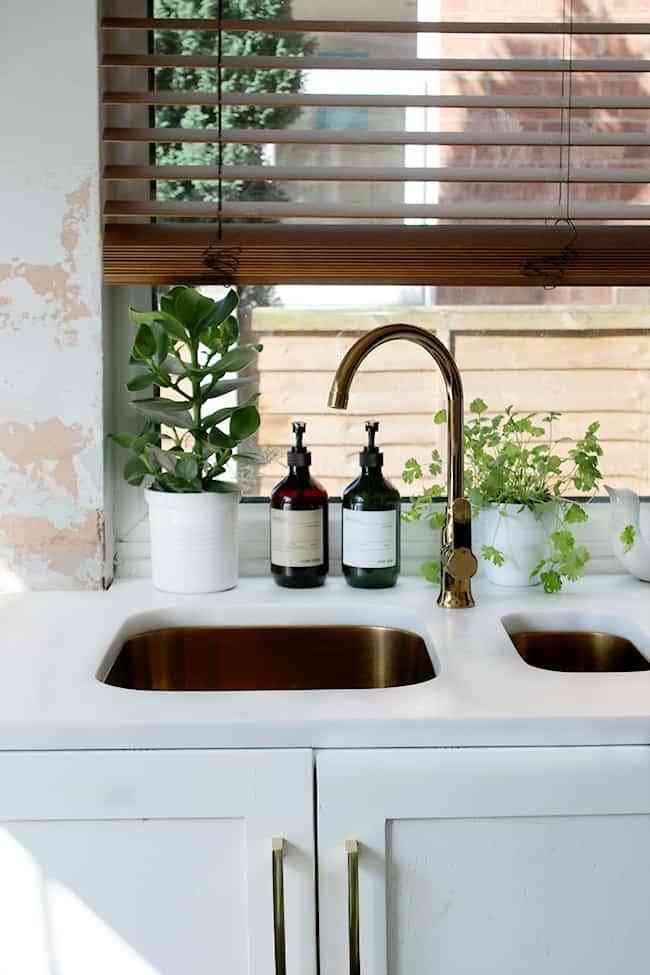 It is clear that the faucets are not elements that are changed frequently. Moreover, they are pieces that are only replaced when The kitchen or bathroom is completely reformed. However, when those spaces need a good facelift, but you do not have the will or budget to do a complete reform, you can change your old faucets for some beautiful golden taps.
Think about changing certain things like faucets, handles of kitchen cupboards, the sconces and lamps and accessories, is a great idea. Then the golden faucets will give your kitchen or bathroom a completely new air. They will no longer be the exclusive heritage of selected 5 star hotels or palatial environments and bathrooms of mansions or luxury residences. Now you can enjoy its elegant shine in your own home.
Golden faucets to add glamor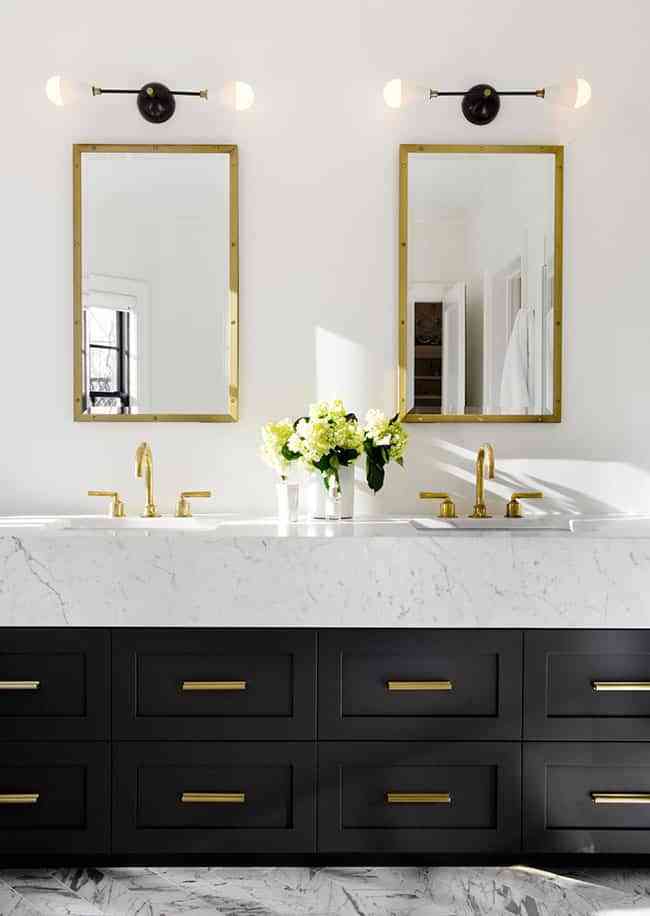 You may never have thought about it before. The faucets in gold or brass finish They are not common in our kitchens and bathrooms. Or they were not ... until now. Because the truth is that they are currently trend.
There are many decorative styles that have adopted them as a star element in the interior design of kitchens and bathrooms. Due to its bright and glamorous touch, they distinguish the atmosphere and endow it with elegance. It is usual to see golden faucets, in its simplest version, in decorated spaces scandinavian style. They are usually made of brass, with a dull glow that makes them very attractive.
They also go great in glamorous and sophisticated kitchens, with certain style mid-century modern. And the golden faucets combine so well with the most elegant materials like marble, as with the simple and noble as wood, especially with the dark woods like walnut.
For minimalist or vintage bathrooms and kitchens
In the designs that you can find in golden faucets, you have many options to choose from. There are taps with simple lines and straight shapes, which adapt perfectly to the kitchens and bathrooms more minimalist and contemporary. Despite their golden finish, they are sober and pure.
On the other hand, the golden taps are perfect for traditional style kitchens or bathrooms, with a marked vintage accent. In this case, the design of the faucets changes. They adopt a very retro image and a brass finish of the most vintage. Sometimes they incorporate some detail in white porcelain, for example, in the controls.
As you can see, the golden faucets are not an exclusive element of classic bathrooms, but rather They can be adapted to any style, depending on the lines of your design.
The maintenance and care they need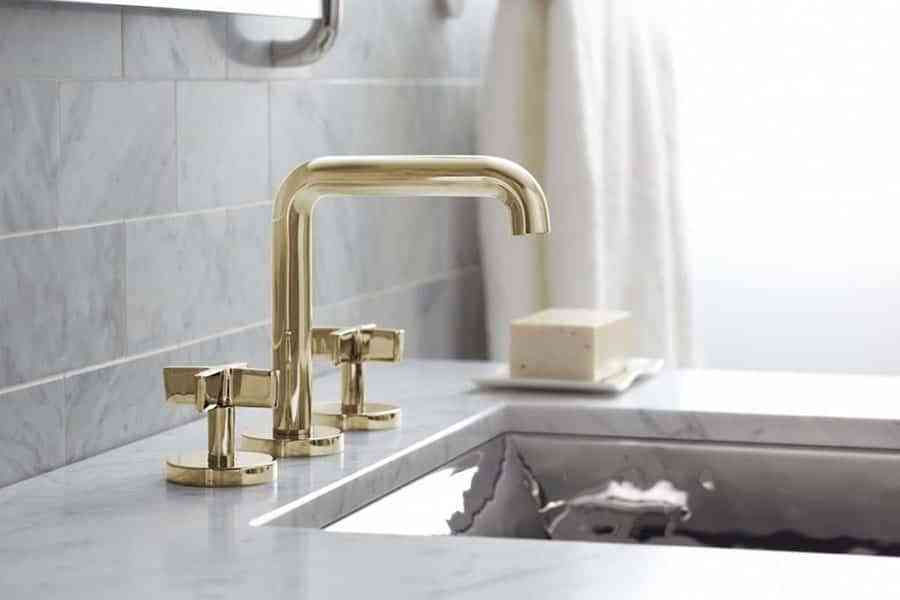 A special element like the golden faucets they require special cleaning and care, so that they remain in perfect condition for as long as possible. Currently most of the famous brands of faucets and bathroom or kitchen accessories have developed lines of products with gold finish.
And it is not that the golden faucets are more delicate than the usual chrome finishes. It does not have to be this way. However, ideally, we clean them carefully using a simple moistened cloth and neutral soap. As with other types of finishes and delicate surfaces, we must Avoid aggressive products and scourers that may scratch them.
To avoid the unsightly lime stains that can make the taps fade, it is best to keep them as clean as possible. This way, the lime will not accumulate in them. And try to dry them after cleaning them with a soft cloth.
Other elements in which to put the golden accent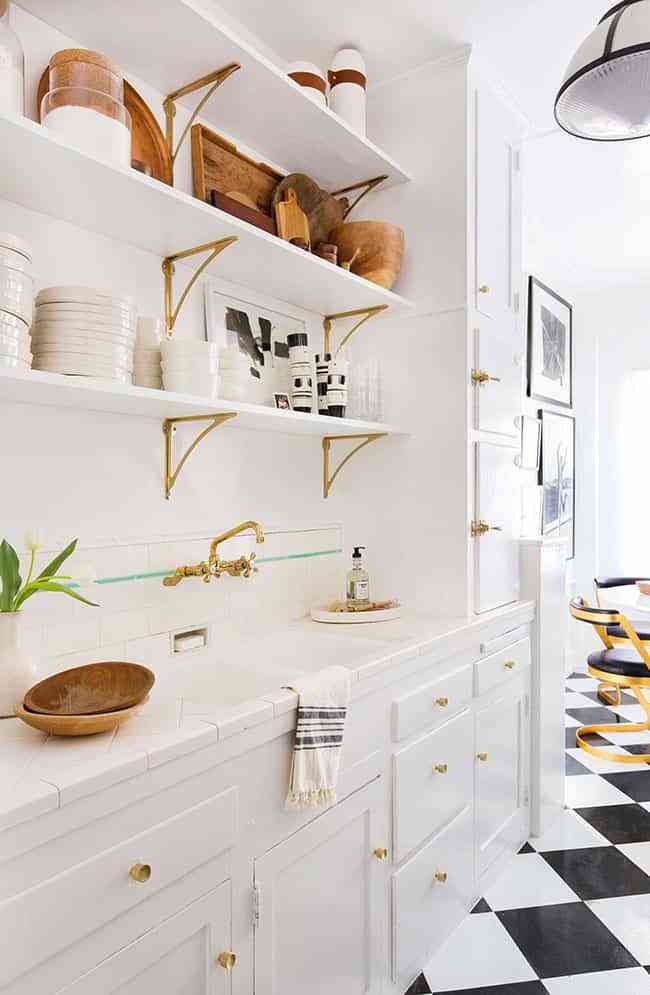 As I said at the beginning of this post, changing your usual taps for some spectacular golden faucets will be a great way to remodel your kitchen upside down. But there are other elements that you can substitute for the change to be total.
An example are the Wardrobe handles. Choosing a pair of golds in accordance with the taps is a sure bet. The wall sconces (or the ceiling lamps) and the accessories in the case of the bathroom are other ways of adopting in our spaces the attractive and glamorous golden effect. Even the brackets that hold the wall shelves as in the photograph.
As you can see, with a few simple changes and a relatively small investment, you can give your kitchen or your bathroom that attractive, modern and innovative air that is screaming for you. Do not you think it anymore!