The bathroom is one of the places in the house where having storage space is almost essential to achieve a comfortable and functional space. However, when we talk about small bathrooms we have to think about some ideas and tricks to make the most of the space.
There are too many elements that require a space that provides order and harmony: textiles, shower products, beauty products, countless utensils, accessories, etc. If you have decorate a small bathroom, which could hardly add a piece of furniture to serve as a storage space and help you maintain order, today I bring you some ideas that will help you achieve this goal easily, without taking up too much space and without the need to invest too much money to put them into practice.
The Baskets they are a good extra storage space
Place some bars on the wall and, using hooks, hang several baskets. Choose the size and type of basket depending on the space you have in the bathroom. They are perfect to have towels, accessories, beauty products, etc. always at hand and in order. In addition, they will add charm and character to the decoration of your bathroom.
Door for towel rails
If your bathroom is too small and you do not have a wall or space to place the towels, take advantage of the space offered by the door.
You just have to hang some bars behind the door that allow you to hang towels. Normally this space is empty and unused, but if it is a small bathroom, taking advantage can be a very good option.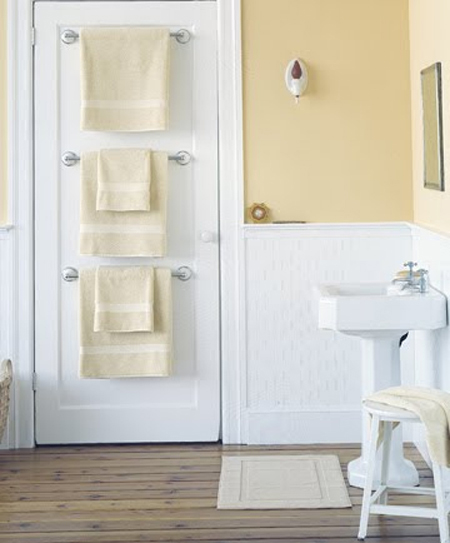 Drawers and dividers
If you have any furniture with drawers or drawers in the bathroom, you will take better advantage of the space than the storage they offer if you put them inside them. dividers or dividers. Also, it will be much easier to keep everything you have ordered.
Shelving on the door
Who has said since the beginning of the article that there is not a pin in your bathroom? Well sure this simple trick of putting a simple shelf on the door you did not take into account. You can use them to put some baskets with towels, cans and cleaning products.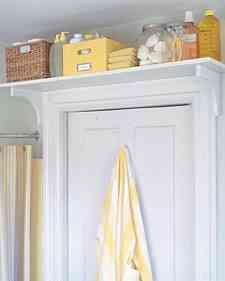 Narrow bathroom furniture
Nowadays in any furniture store you will find in the section of bathrooms some of especially narrow dimensions that will serve you to take advantage of the small holes that you have left and there is even one in Ikea that serves to create a kind of shelf on the wc ideal to keep towels and toilet paper.
No doubt the narrow furniture for bathrooms They are gaining prominence and are becoming easier to find at better prices in stores.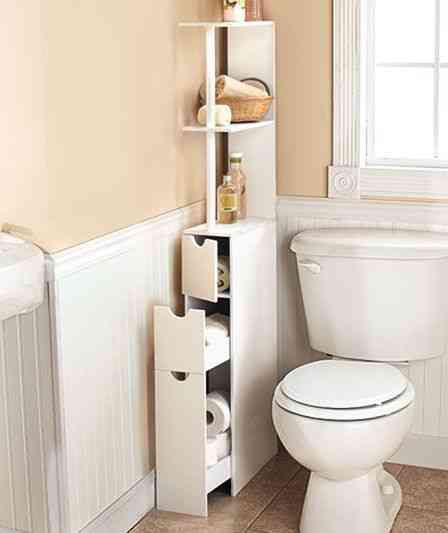 Stairs and other accessories for the bathroom
There are other accessories for bathrooms that will also be used to store making the most of the space. Furniture in the form of stairs with baskets, a trunk or basket of clothes, and especially the shelves for which you surely find space.
Of course, if your problem is that you live in a flat or house for rent and you can not install shelves with holes in the wall the solution is the new ultra-resistant adhesives for walls you'll see what good comes!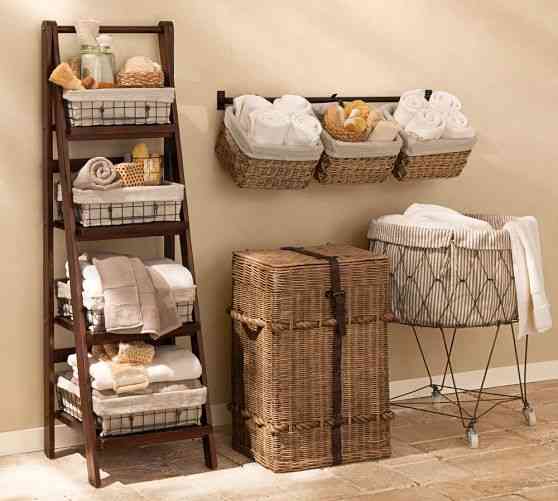 Tailored cabinets
While it is not exactly the most economical way to gain storage space in the bathroom, it is true that in the long term it is the best! If you look at this photograph, you are sure that you are aware of all that horizontal space that you are missing and could use.
What's more, today before you start to make a custom furniture Maybe you can also check the furniture of a store with a wide range of furniture where you can find one that is practically made to measure and similar.
Drawers in the heights
If there is a type of furniture useful for the bathroom those are the drawers where you can store all your little boats and accessories. However, sometimes we do not have space for a large chest of drawers and we have to settle for shelves where the products look and can be ugly.
The solution? Chests of drawers hung like shelves! As you can see in the image, it is possible. It is true that we can not afford large drawers, but a few small ones will be possible.
What do you think of our ideas to take advantage of the space in the bathroom? Do you dare to get down to work to organize your bathroom? Surely it will be a great help for this online design application 3D for interior decoration that will allow you to identify gaps and spaces to store!