Have a weekend breakfast on your mini terrace, read the newspaper, mess around with your computer or fix the plants. Do not surrender to its small dimensions if you are willing to fulfill all these plans. Believe it or not, you can turn it en a fantastic outdoor corner to make life in it. From the first hour until the sky is full of stars. I tell you how.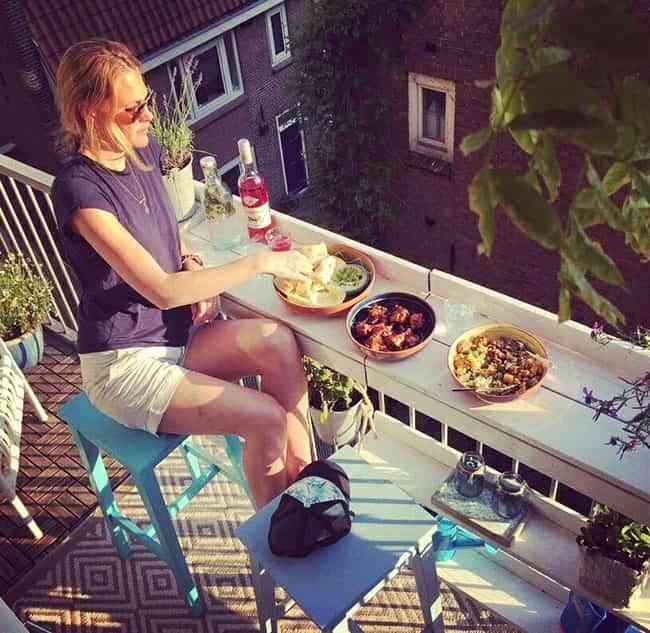 Of course the few square meters of your mini terrace do not make it easy to decorate and take advantage, especially in spring and summer. But it has a solution with imaginative ideas and versatile furniture and accessories that completely transform this outdoor setting.
A mini terrace where to have the aperitif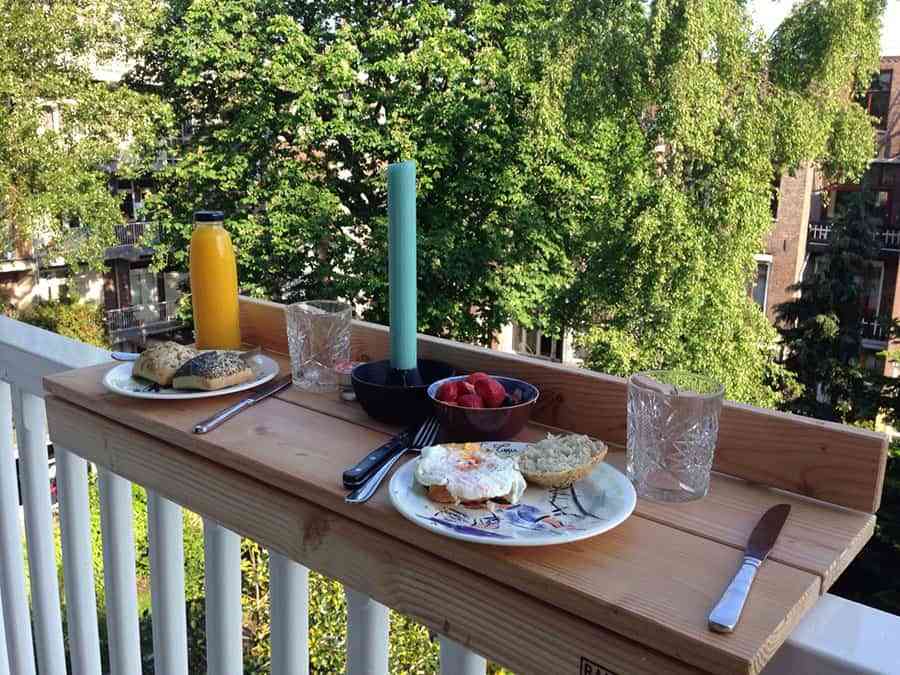 Probably one of the most desirable plans for all the lucky ones that have a mini terrace be have breakfast in it. Or take it the appetizer. Well, from now on It can become a reality. The reason is the small wooden bar bars specially designed to fit the handrails. The duo of Dutch designers Arjen Spijkerman and Daan Meijners are the authors of this brilliant invention that has revolutionized the functional possibilities of these small outdoor spaces.
Balkon Bar is the name of this accessory. Its virtue is that it is able to take full advantage of the length of railing as an extra surface. Its width allows provide comfortably in it plates, glasses and trays. And even some candles if we are thinking of celebrating evening evenings. further there are several versions, with which it will always be possible to find the perfect choice for our mini terrace. We can now make plans to invite friends, improvise a quick meal or enjoy a very cool intimate dinner.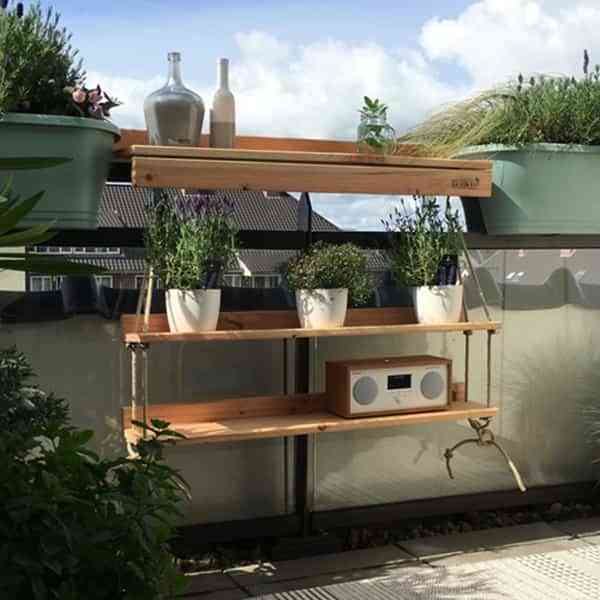 And one more fact. When this function is not fulfilled this bar it can also serve as a workplace very comfortable to fix our pots and outdoor plants. Then we can leave them there exposed, along with some zinc showers. Attentive to designs that have wooden shelves on the bottom. These barely occupy and in exchange offer many options to turn the mini terrace into a corner very deco.
A time of music or in front of the computer
Surely we all associate a mini terrace, a balcony or a small patio
to moments of relaxation and disconnection. But You can also surprise us with other uses. Especially if we are the ones who go around the house with the laptop everywhere because we like to read the newspaper on it, or check the movie card. In that case the idea of ​​using it outdoors can be a pleasant sensation. And more if we have a piece of furniture or an accessory that guarantees stability and comfort. The proposal in this case has nothing to do with the typical outdoor tables. But with a support of polyethylene which is fixed to the railing and that has capacity enough to leave a small portable. Its ergonomic design guarantees great functionality.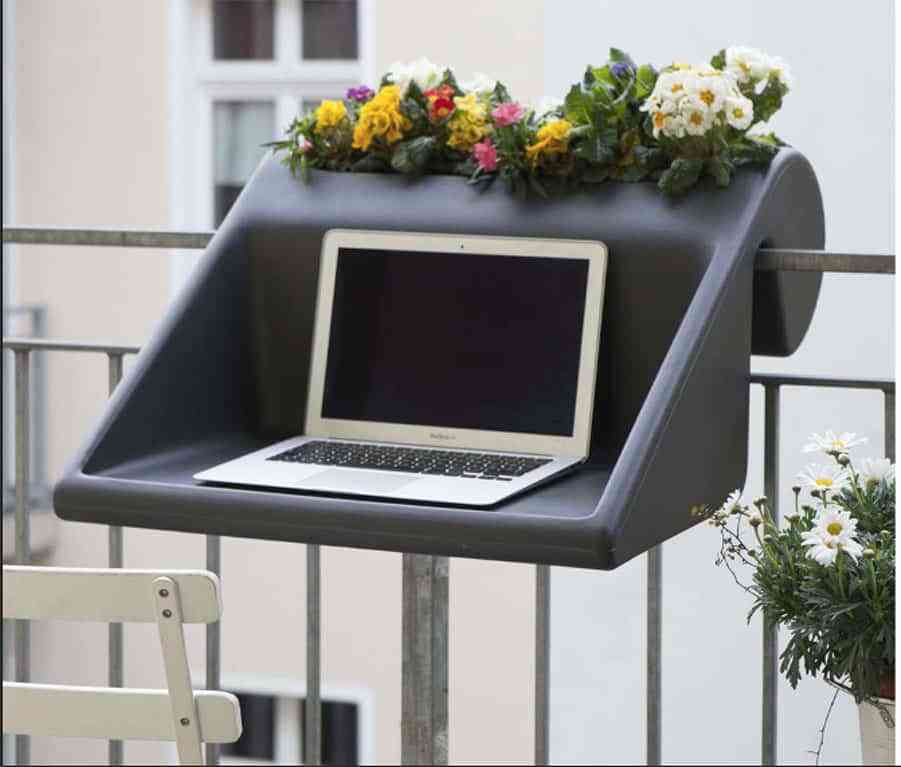 The truth is that This type of support supports many uses, and again the leisure wins whole. If we like to listen to music, can be the key place to leave helmets not to lose sight of them in our mini terrace. I'm wrong? Or the books and reading magazines that we love to have on hand. Without forgetting its decorative facet. Some models allow small pots to be incorporated in the front part. They are a discovery to try.
Calm meals with hidden furniture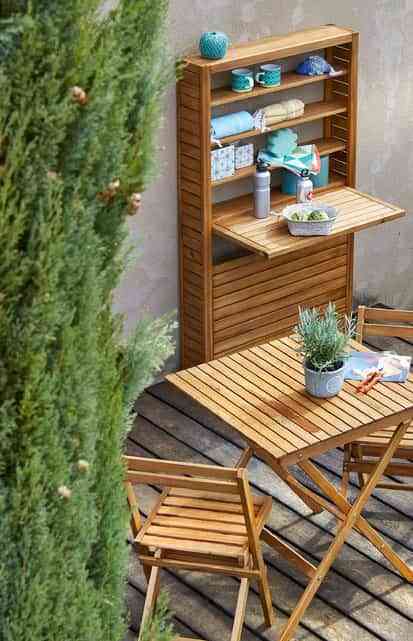 The challenge of a mini terrace may consist of make your space look twice as of what it really is to decorate and equip it in another way. Maybe you've always wanted be able to use a table Enough comfortable to invite some friends to eat. After all, it is your redoubt of leisure and pleasure. Well it is also possible that this plan triumphs if you bet for multifunctional furniture that have been designed to live in mini spaces like yours.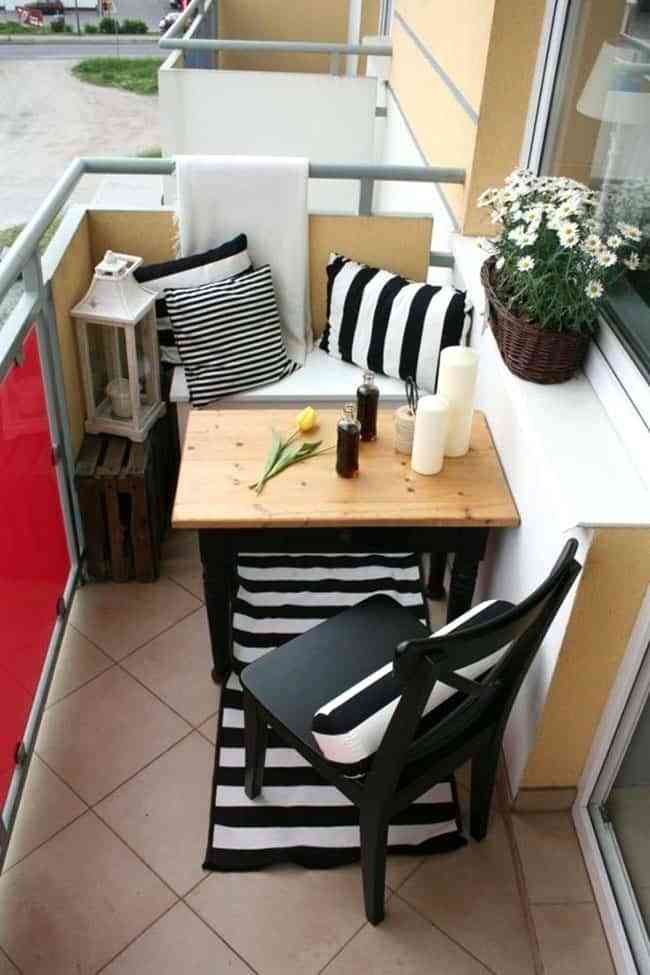 E.g. the wall tables for two They are great because you allow you to have everything you need only when you need it. Then they hide and occupy very little supported on a wall or a wall, about 19 cm background. They are wooden structures that they incorporate several shelves where to leave dishes, glasses and bowls. Y ademas un swing wing that acts as a table to eat. Once the meeting is over, it is hidden because it is left folded. They are furniture very thought to facilitate the storage, that is why its sides are prepared to store folding chairs made of scissors or tropical wood. You can now assemble your small dining room. Mission accomplished.
Relaxing moment contemplating the horizon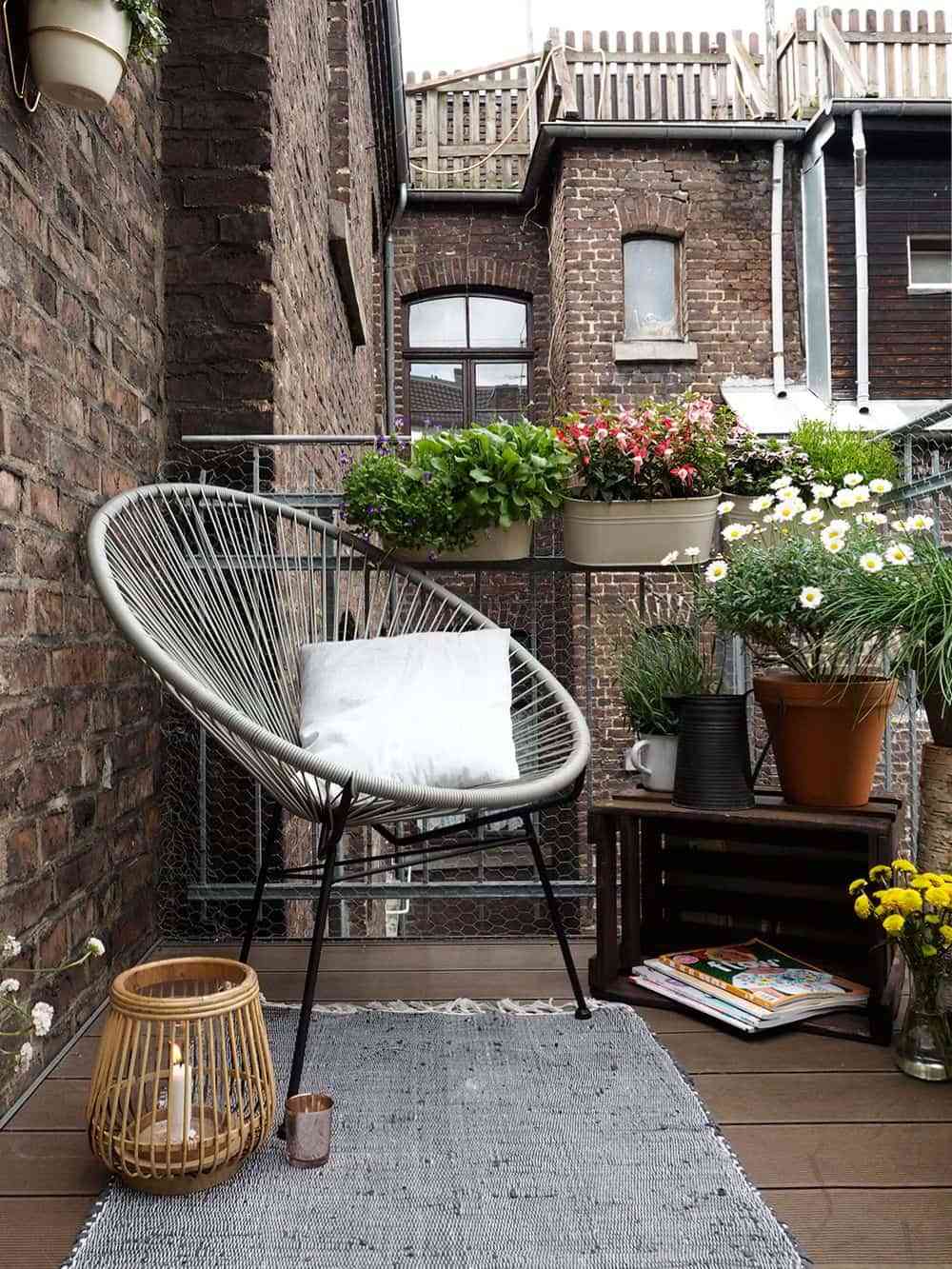 A very comfortable garden armchair and a summer carpet at your feet. Or a few seats fluffy and perfectly coupled to your particular space. It can be all you need to live on that mini terrace during the summer months. That is, a ultra simple and at the same time comforting decoration, with cushions for seats and nice cushions as a backrest. Which incidentally, you can take advantage of as an extra point of storage if you opt for drawers with a lid. So you solve in a stroke the need to keep all those objects that are at home. Now you can start to relax contemplating the horizon of your city.
Do you want to stay with any of these ideas for your decoration?