The combination of the furniture of the bathroom and faucet It is essential when we search style and an aesthetic. Many times, when we're going to get a set for the bathroom, we forget our height. Remember that the mistake or not to give importance to this aspect will be harmful to our back because it forces us to adopt uncomfortable postures In day to day.
Currently, there is a wide range of bathroom taps. If we worry about an excessive consumption of water we can always select taps whose technology has control of water and energy consumption. New technologies make our lives easier ... almost always.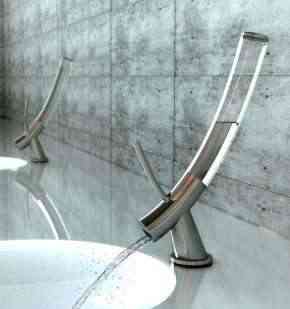 Within these we can highlight the pearlizers and aerators, these are able to save up to an 65%. The secret? they add air to the water jet, reducing its flow without us noticing.
The timers and sensors they are precise taps that allow the water to escape after a while, or as in the case of the sensors when detecting that we have our hands under the tap ... 80% savings.
Let's talk a little about the type of faucets. Among them we can highlight three that are the mixers bimando, the mixers and the thermostatic. The latter are quite useful, because we can select a constant temperature, staying every time we go to open the tap.
Among the most usual finishes, we can distinguish between chrome-plated, satin, gloss, matt ... - chromed in black and white, with porcelain, glass, strass ... etc handles.
Last and within the trends we can distinguish between the wall models and the built-in models practical–