From the hand of Magazine from El Mundo we have met a nice rag doll: Pepa Chic. It is not just any doll but it can boast of representing Tapestries Gancedo, a prestigious Spanish tapestry house.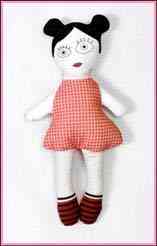 The company has decided to present its new collections through it. How? In the most original way since the clothes that Pepa dresses (dresses, stockings, shoes ....) Is a sample of the new fabrics of the company.
This year, two models of dolls have been made. A pink, with Max & Belluno's houndstooth dress, stockings and collar that represent the new collection of lace curtains and the floral back of Sanderson. The other doll wears green with an earthy and flowered dress also Sanderson, lace stockings and green back of houndstooth.
Be fun and original idea will represent Gancedo in national and international fairs presuming to go dressed in the best finery. Besides being the image of the brand, you can also buy it for 25 € and if you like it, hurry because it's a limited edition.
More information: Gancedo
Vía: The World Magazine