Discover how to use glass jars to perform great candles in jars for Halloween, that will give authentic fear to your friends and visitors.
One of the most anticipated dates is here, if you are going to decorate your home or put some Halloween details, this is the time to start! Therefore, here we leave you a fantastic idea that you can use to decorate your tables, the staircase feet, the entrance door, the garden, or simply, hanging from the ceiling.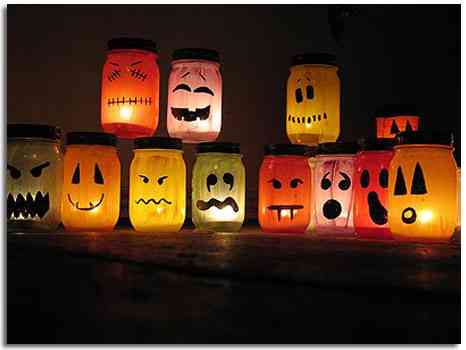 Recycling glass jars
These fantastic gruesome lanterns have been made with canned food cans of any food that we can buy in any store or store. Now you can do something with all those glass jars you have at home, recycle them to use them in another way so that they will now be part of the decorated on Halloween.
The idea is very simple and easy to make, we only have to have orange, yellow and black paint, and as many boats as we want to do. With canned food or Glass jars We can make these fantastic lamps or luminaries. In this way we will then make faces as terrifying as we want.
Choose the size you want and with acrylic paint we paint the inside part. First we will paint the faces (outside or inside) that we can also make by sticking out cardboard cutouts if you do not have much precision with the brush.
Painting glass jars
Then, we will paint the interior with paint. It can really be as easy as spraying paint and then moving the jar until it is completely covered. Dry it upside down.
To finish with these lamps, you only need some candles inside and that's it! Your lamps will illuminate the areas of the house you want. Remember to introduce candles that do not heat much, of the small ones, because if the boats are made of glass or plastic we do not want any accident to happen like melting or exploding.
We hope that this Halloween craft You liked it as much as I did, and you put it in motion and show us the results by uploading photos to the Facebook group Do it yourself.
You can also find many other Halloween decoration and craft ideas on our 2.0 Decoration blog, so do not hesitate to go for it. Here are some sample images: