Do your little ones already have candy holders for this Halloween? In this post, we propose a Halloween craft with a tin and inspired by Frankenstein. Ideal to recycle a can of preserves and make happy the little ones of the house!
El blog Craftideas.info offers us an excellent idea to bring the trinkets on Halloween; nothing more and nothing less than to make a Little Frankestein as a candy holder starting from a can of preserves.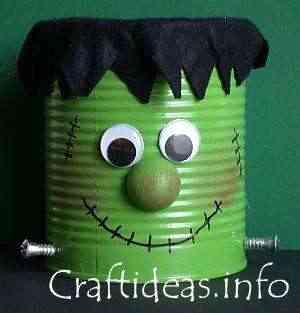 It terrorizes others with This fabulous Frankenstein made from recyclable materials that even children can do with adult supervision. Do you want to learn to do it? Do not miss the detail of how to make with your own hands this Halloween decoration!
The materials are as follows:
Cans of aluminum, coffee, milk ... that are empty.
Felt colors, in this case we will make a small Franki so we will need green, orange, black and red.
Acrylics in white, green, black, red and orange.
Several brushes of different sizes.
Large movable eyes.
Three-dimensional red paint, green plasticine, plastic sheets, thick screws.
Glue gun.
The first step will be paint the cans, in the example we see the figure of Franki, but we can do Pumpkins, vampires or witches ... everything depends on our imagination. The background colors that correspond to these little monsters mentioned will be:
Frankenstein in green.
Pumpkin in orange.
Vampire in white.
Witches in green.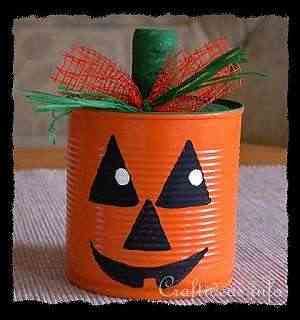 We will let dry the can and then we will add the details that corresponds to them We can apply screws to the sides of Franki's head or apply three-dimensional paint to a drop of blood that falls from the vampire's mouth, we can also make a wart in plasticine for the witch or some plastic leaves in the pumpkin.
When the motive is dry, we will only have to cover the interior with the felt, we can apply the hair of Franki and the vampire with black felt. Also the witch's hat can be of this felt. For the pumpkin we would use the green color of the leaves. And surely you can come up with more details to add to give it a personal and unique touch.
As you can see, it is not very difficult to do this Halloween craft and sure Kids love it. Put a Franki on your Halloween! And tell us the result in the Facebook group Do it yourself!