Far from stereotypes and the expected use of everything that comes to our hands and also to our home, there is a world of options and possibilities to explore and experience. Teak furniture, natural fiber, wicker, textiles and even plants are a clear example of this. So today, In order to break molds and encourage you to dare with them, I want to talk to you about the hanging hammocks inside the house. An initiative that I am sure you will love and with which I bet you will let your imagination fly until you get to see them somewhere in the house. Do not lose detail that we started!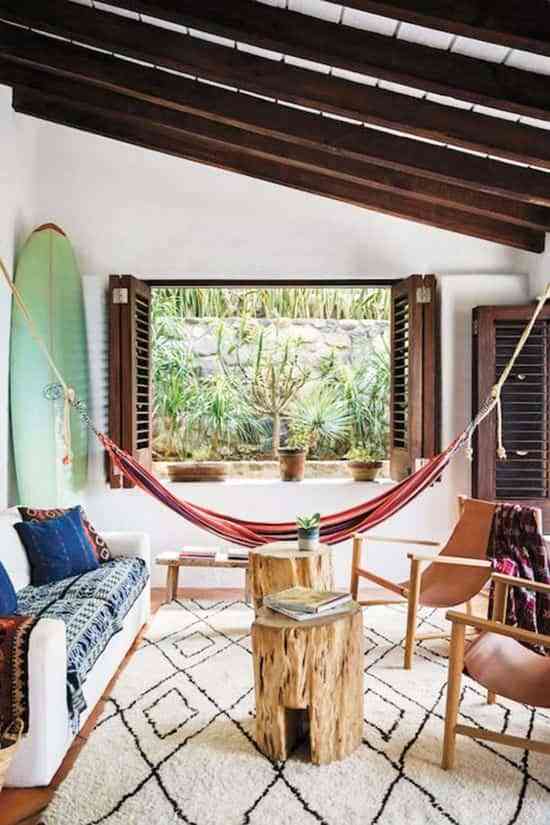 In corners with lots of light
Beyond the Sunday naps, the hammocks hanging inside the house can get to give you a lot of play. Treat them as if it were an armchair more, it will make you discover a universe of decorative possibilities around them, and place them in areas that enjoy a lot of light will be one of the ways to help you achieve it. Create an original reading corner through one of them or discover how the sky looks through the window by enjoying a daily parenthesis dedicated to absolute relaxation.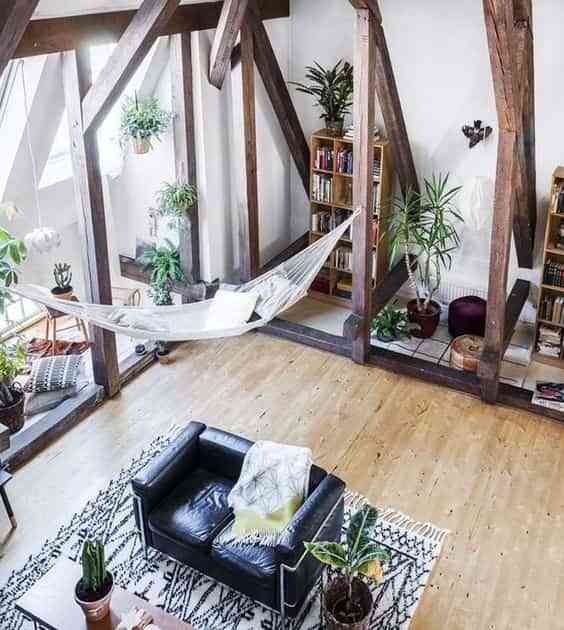 Delimiting environments
Such a light and original element can also help you to visually limit or divide stays that are sharing space. There is no doubt that the incorporation of hanging hammocks in the interior of the house, will bring a casual, dynamic and jovial touch to your home. So even though it helps you visually limit spaces, welcome one only if you intend to integrate it into your day-to-day life. If not, the hammocks in decoration they will end up being an element lacking in meaning that you will end up undoing with time.
In your favorite stay
We all have a space at home that makes us feel the sea of ​​comfortable and happy to find any time to enjoy it. So if the hammocks to decorate the interior of the house they are something that catches your attention, you may unwittingly already have the right corner to accommodate yours. Bet on a design that suits the style of the space or decant by the contrast to welcome you. Who said that showing results as comfortable as different and original in your home was not within your reach?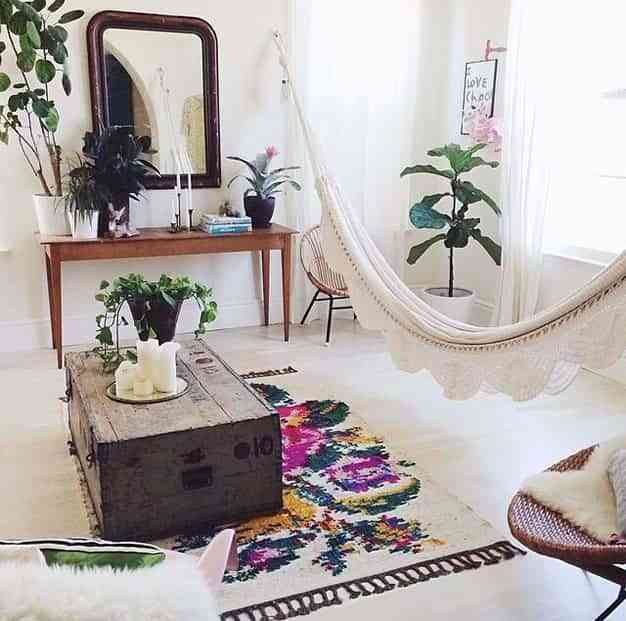 Hanging hammocks inside: As if the most comfortable armchair was
And that is precisely what this element can become if you allow it to be part of the interior design of your home. Hanging hammocks are often treated as ephemeral elements from which, sooner or later, we end up undoing. But what if we start giving them the importance and interest they deserve? A carpet to enhance the comfort and well-being of the space in which it is attached to cushions or cushions soft and warm, will be the perfect accessories and also determining to get to see and feel this space as one of the untouchable of your home;)
Take advantage of a corner
No need to tell you that these spaces are completely ideal to accommodate any hammock worth their salt. So the pendants will not be less. Taking advantage a covered porch, in a corner away from passing areas, making it coincide with a place that enjoys a light and special charml ...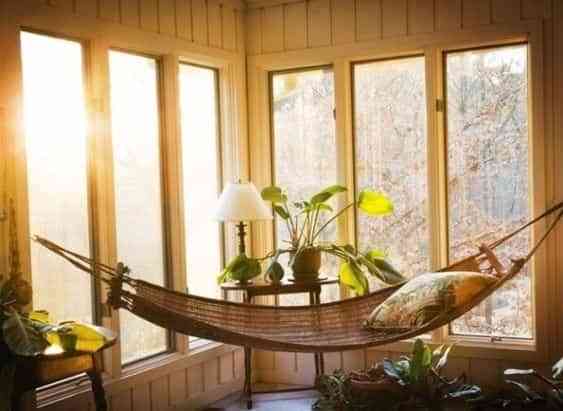 Atypical reading points
Many are the ideas to create your reading corner at home what can you start? And if you enjoy a good time reading wrapped in a space that gives you an unequaled well-being, the hanging hammocks inside the house will help you to get it. Observe the clear example that I show you below. Anchored from the side of the window and to the perpendicular wall of the room, the corner that gives rise to this hammock has managed to proclaim itself as the undisputed protagonist of the space almost without realizing it. Do not you think a result without equal?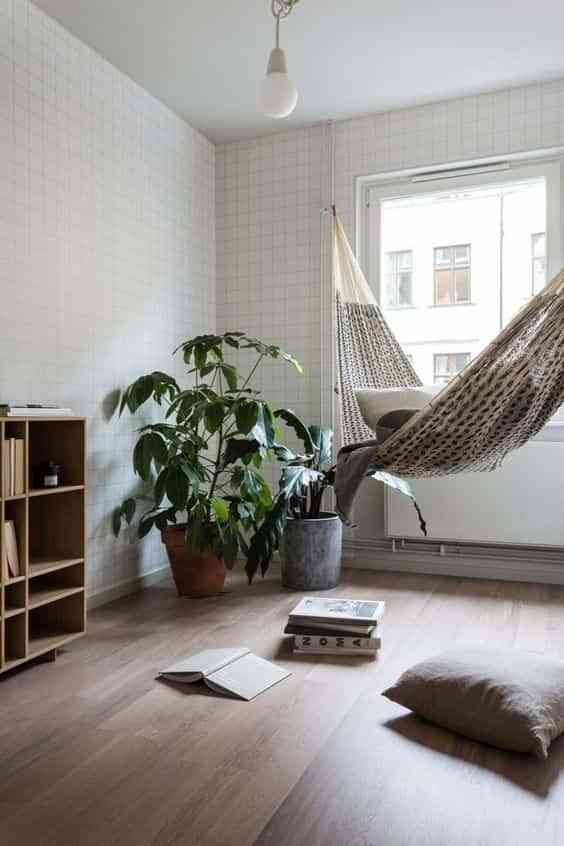 Avoid passage areas
Determinant factor and that you have to take into account. Especially in rooms that do not have a large surface to solve them. A corner dedicated exclusively to its incorporation will be ideal for a hanging hammock. And is that find it at the pace of any other activity will end up being annoying In your day to day.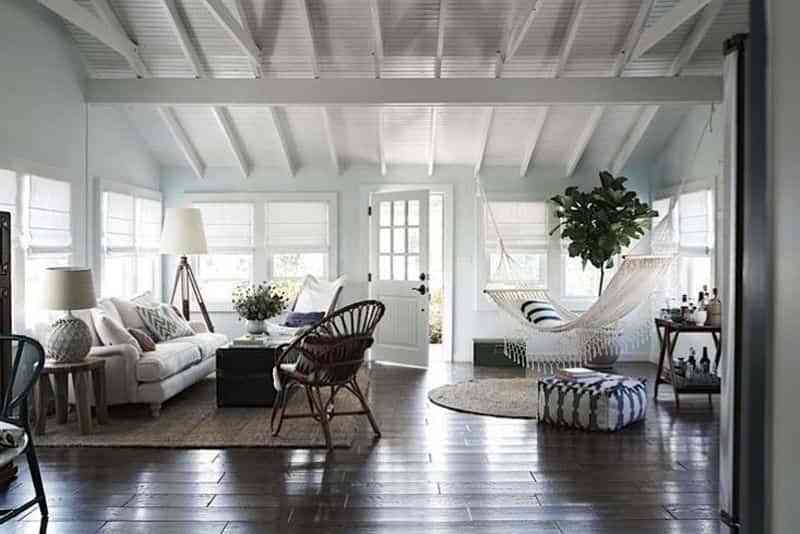 In clear rooms
In them these original and visual hammocks shine with their own light. A clear environment promotes its beauty and also its use depending on the space you count!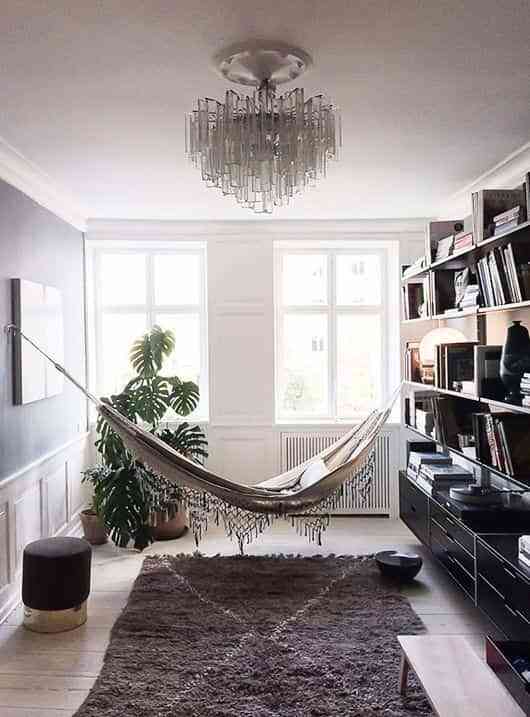 As you see, this type of hammock, in addition to providing a plus of exoticism and originality to your home, will be more than welcome inside. Choose the idea that best suits your style and way of life and do not wait any longer to open your doors to one!