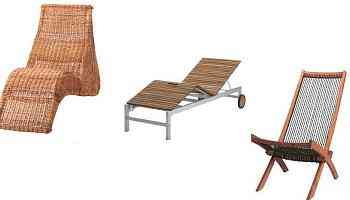 Today is the time to talk a little about hammocks and sunbeds. It is outdoor furniture designed to enjoy the sun and relax for a while. Therefore, providing us with comfort is the most important of all.
It is important that you take into account the materials with which they are made, since being outdoor furniture, they must be kept in perfect condition under the demanding weather conditions. Although practically all are prepared to resist them, be well informed of the care they need before getting one.
Also look for comfort, it is very important, you will change your site on several occasions throughout the day. There are many designs with wheels to move easily throughout the garden.
Sure you find a lounger to your liking, that adapts to the decoration of your terrace or garden. Visit specialized houses, you will be surprised what they can offer you. Signature firms such as Luar, Kettal, Dedon, Triconfort or Hugonet are specialists in this type of furniture, taking maximum care of its design and functionality.
Combine materials, plant fibers, wood, aluminum, fabrics and remember that light colors are the novelty, but do not forget your surroundings and decoration, as acid colors, which are worn this year, will also make your sunbed a unique piece.