If our house has an internal staircase is that we are one of those privileged people who live in a duplex, a detached house or a loft. Many times these elements go into the background, they do not look too bright. But the reality is that they can be tremendously decorative with really original handrails. This post is the best example of its impactful transformation. Do you follow me?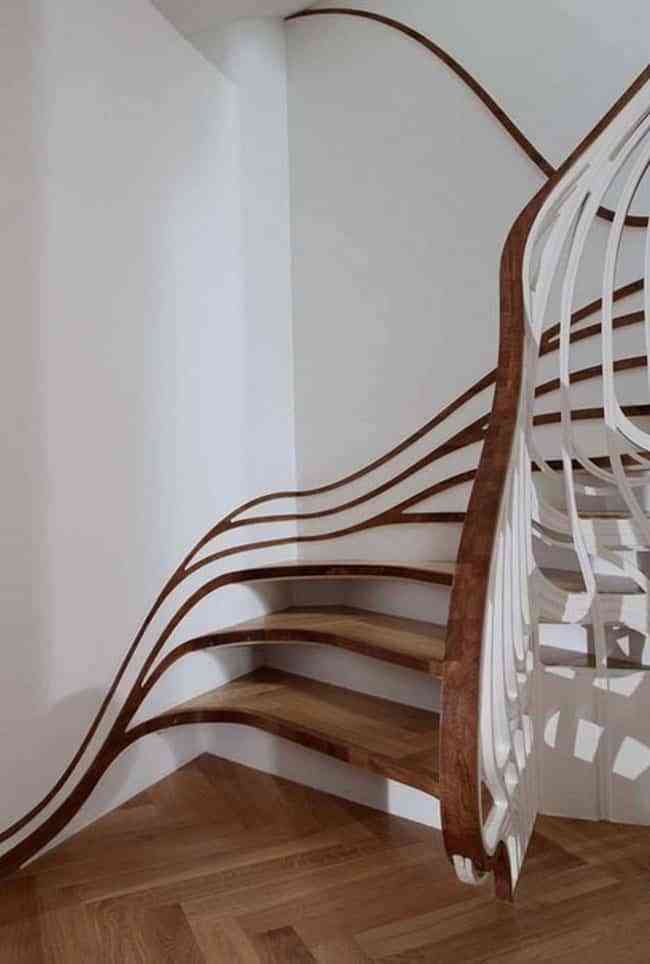 The handrails are able to make the aesthetic difference in a interior staircase, beyond its practical role. To achieve that they acquire a very modern and contemporary air. That by itself is a beauty piece decorative of the house in which we had not repaired too much. We can enhance its structure, integrate it to the maximum in the spatial set or make it very visible by illuminating it. For this, you have to bet on design solutions and current materials, daring with proposals that They bring a lot of personality.
Handrails with a contemporary touch
When the modern style prevails in our domestic environments, it is most likely that we want to give an identical or similar air to the staircase that leads to the top floor of our home. The handrails fabricated in steel shows the option par excellence for get that his image becomes more contemporary. They enhance its structure and make it lighter. Especially if the staircase is in the center of a room or other minimalist environments, as receivers and distributors.
Another alternative is to combine these steel handrails with warmer materials, and between them definitely timber It is one of the favorites. It will bring elegance to the whole. And if we have decided to do works on the stairs, it can be a fantastic opportunity to install a tempered glass railing. It will undoubtedly become a super decorative piece.
Integrated in the wall: maximum discretion
A veces these handrails They are characterized by their simplicity, and there lies its beauty, with a very suggestive final effect and natural I mean the solutions that are embedded in the walls and partitions that flank this type of stairs, bordering them from the first step to the last. We can choose stone, metal or wood models, playing to integrate them to the maximum with the coating of that wall. Or on the contrary, use them to create a strong contrast with your finish or tonality. Of course, this type of handrail they are the favorites in decorative projects that let appreciate the beauty of the space. In them there is usually a predominance of natural materials, such as stone, ecological paintings and untreated wooden furniture.
Backlit or with LED lights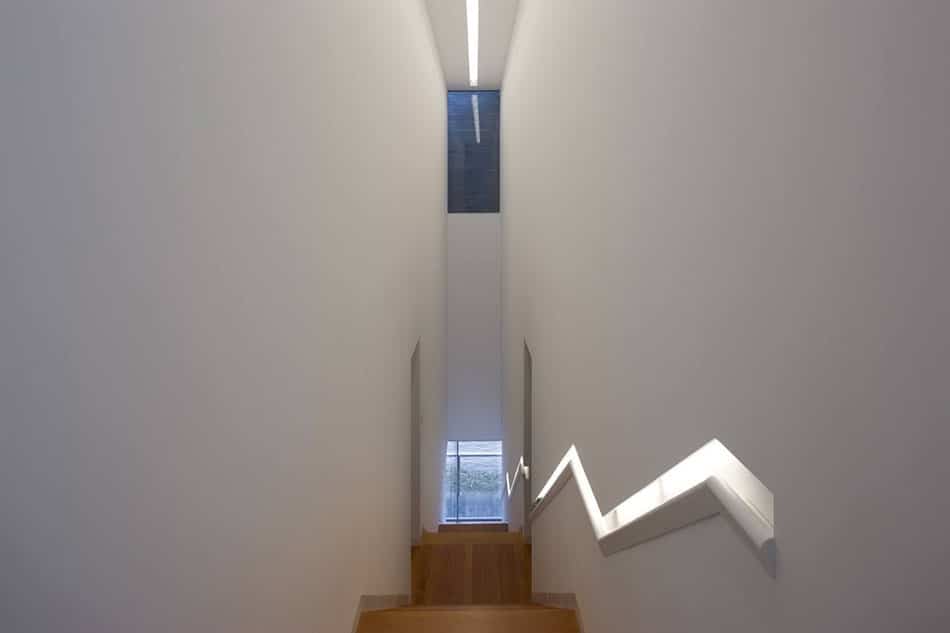 Light can become a valuable ally of the handrails, as a solution not only aesthetic, but also merely functional. The key is let them go backlit. So they will be perfect to give dynamism to an interior staircase, especially if it is quite long and straight. But let's not forget its practical role, since also shows of great help to bathe the rungs with just indirect light and necessary. Going up and down on it will be more comfortable and safe, especially during the night. In addition, this type of handrail marks a luminous and subtle stretch of light.
For the handrails can go backlit it is necessary that they are flush with the wall of the stairs. Then, it will suffice to pose inside a few points of LED lights along the entire length of this domestic element. And a very simple way to achieve this is by distributing strips or LED lights spotlights.
We may very much like the idea of ​​having the interior staircase illuminated, but without a banister flush with the wall. Then, there are handrails that incorporate their own lighting system based on LED spotlights. its design timeless It is integrated into the current stays without problems, with a very functional air.
Tensed or as sculptural pieces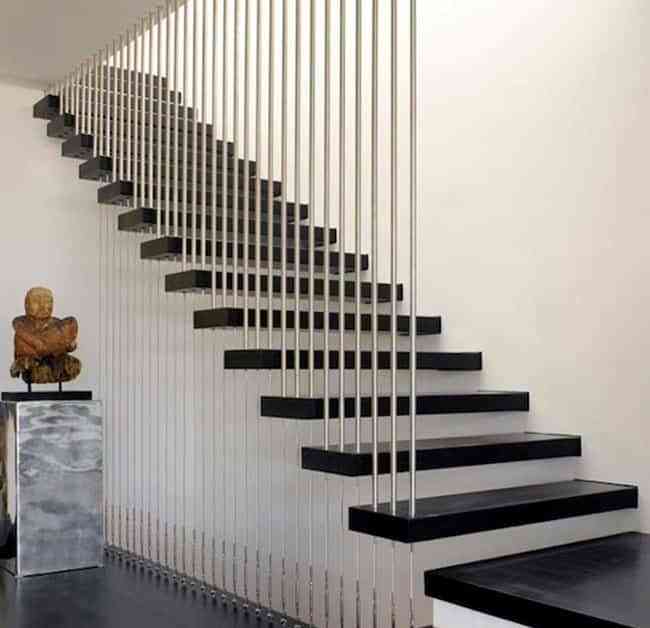 When the handrails reach their maximum expressiveness Results shows Simply amazing And of course our internal staircase will no longer be a simple functional element of the house to capture all the looks of our guests. One of these proposals are the handrails stretched to the ceiling, forming meshes and attractive structures in different ways Original and ultra modern, They can be metallic, look painted, and even be made of rope in its most natural and ecological version.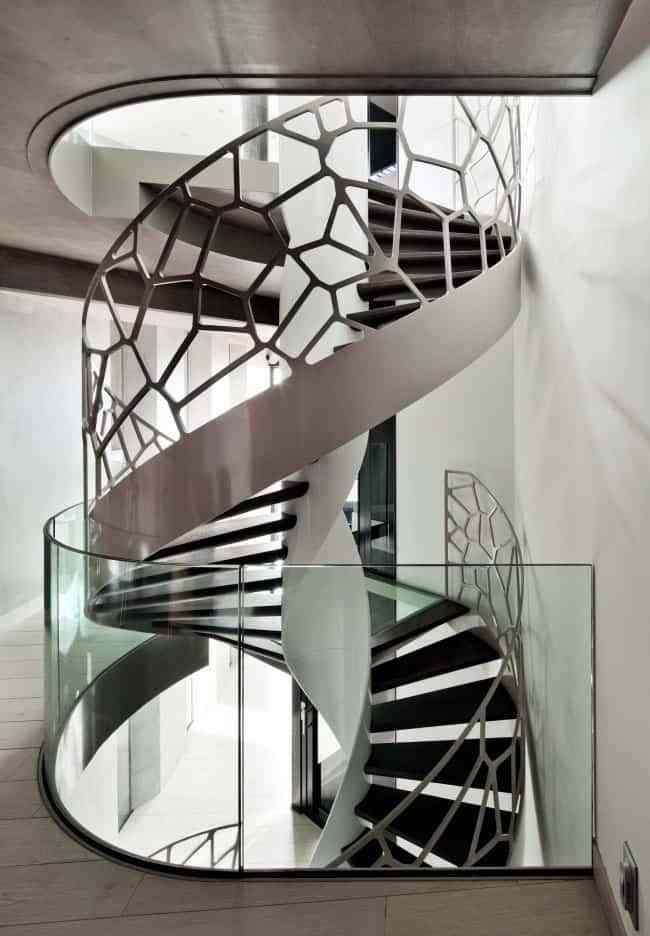 But there is still more. Like the business who adopt they form very striking organic aesthetically. These solutions dress the interior staircases in an enveloping way, providing a great sensation of movement. Maybe only suitable for interiors that pay homage to avant-garde trends. Most of the time they are made of corian, resin and treated wood.
And those here also come in designs with a final sculptural image. In them the handrails are diluted, they are part of metallic structures that are pure geometry and that at the same time have been conceived for other uses. For example, comfortable side tables and shelves. They can be perfect to use in extra zones where to leave our latest literary acquisitions. As you can see, the handrails surprise and are capable of fulfilling an incredible decorative role. Did you like these proposals?