Have you never thought of Lining a pillow with a towel? If we have old towels that we do not know what to do with them, we can always resort to this craft.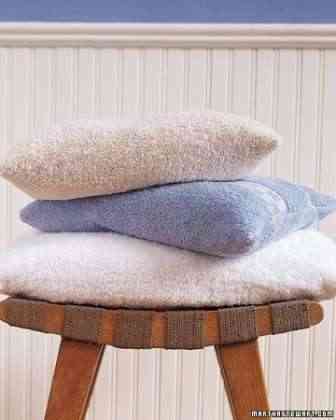 The result will be soft and soft; and a pleasant solution for people who usually lie down with wet hair after a shower. These curious pillow cases or to cover the cushions of our home, will be very useful.
The materials What we will need to start will be:
- ½ meter of terry cloth in any color. This measure reaches for a cushion.
- Zippers that match the color of the fabric.
- Measuring tape.
- Thread.
- Needle
- Scissors.
First we must think that for every ½ meter of terry cloth, we will get a cover for a cushion. In this way we only have to multiply this amount by so many cushions that we want to cover.
To obtain exact measurements, twe will take measurements with the meter, of the length and width, of the pillow or of the pillow and then we will pass them to the towel.
Now we proceed to pass the measurements to the towel and as such, join by the sides and ready. On one of the sides we must put a zipper, if it can be the same color as the towel lining.
The zipper will allow us easily remove the stuffing to wash it and that is impeccable.
Once finished, always we can customize it as we want; with colored ribbons, letters, drawings or whatever we want. We can also leave them as they are, I think I particularly like them better, simple.
As you can see, it's a simple craft, with amazing results.