If you have an old trunk at home or if you find some on a walk in the countryside, do not hesitate to take it home, a simple trunk can contribute a lot to the decoration. In today's post I propose that you turn it into un original wall clock with a certain rustic feel...
A watch like this: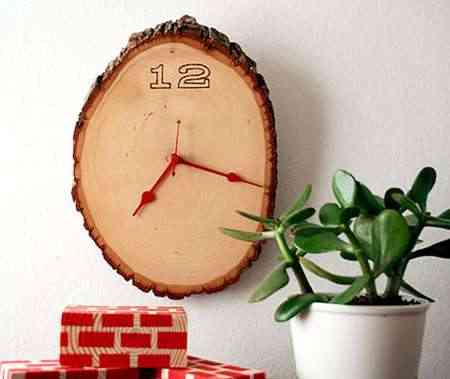 The first thing you should do is cut the wood. Keep in mind that the surface should be smooth so that the needles, when moving, do not encounter any obstacle or imperfection that prevents them from turning.
Once the trunk is cut and ready to begin shaping, the next step is to mark the center. Make a mark in the center and make a hole through the drill with the drill.
Now you can start dialing the numbers. You can mark only the 12 (as in the image), mark them all or, if you want you can even leave it without numbers. Everything depends on the result you want to obtain and your own personal tastes.
Once this is done, you have the list base, only the watch's machinery is missing. Place the needles and the machine and ... you have your watch!
To this idea you can apply anything you can think of in order to achieve a watch that suits your decoration: you can paint the trunk of a color that fits your decoration, you can make the numbers with stamped paper or any other material and paste them instead of marking them ... Let your imagination fly and you will achieve spectacular results.