The incorrigible romantics are in luck: February is their month and the 14 their day. So if you are one of them, get ready to enjoy the beautiful with this passionate idea. We teach you to Create your own hearts for Valentine's Day. With them you can decorate your entire house and tell your partner how much you love her. You dare?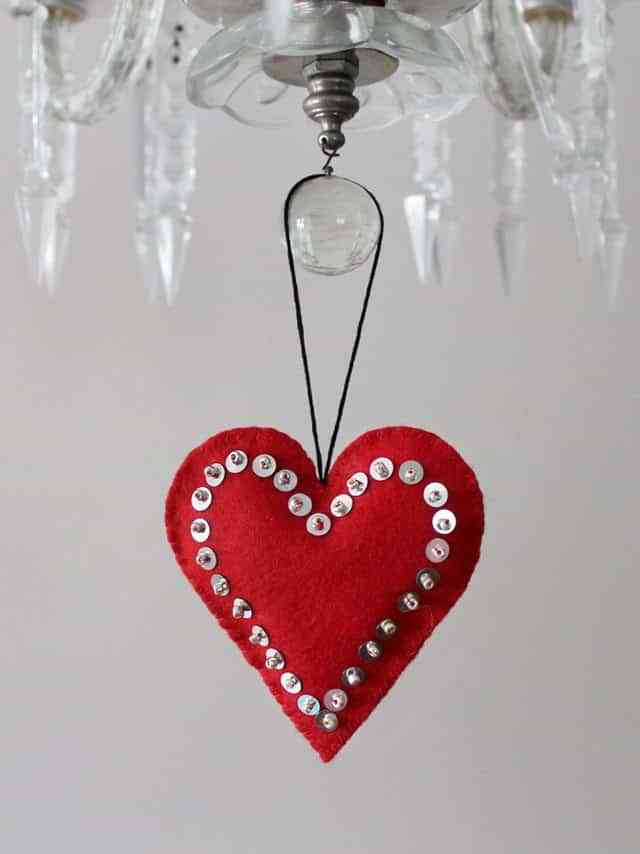 If you like the handcrafts and do things for yourself and, in addition, you are in love you can not stop reading this article. In it we are going to give you a couple of original and very creative ideas to celebrate in style the day of the Lovers.
It's about making yourself some hearts to decorate any corner. A great idea with which you can decorate your house that day without spending a lot of money and, also, with the satisfaction of creating things with your own hands.
Easier can not be. We teach you how to make hearts for Valentine's Day and let your imagination use them, except for one or two suggestions that we aim for you to be inspired. From there, let your creativity fly flood your whole house with LOVE.
How to make hearts for Valentine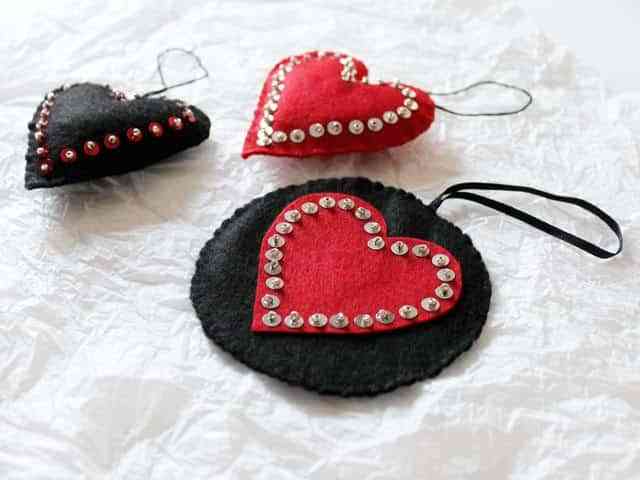 There are many ways to make hearts for Valentine, depending on the technique you choose and the use you want to give them. In this case we are going to teach you make beautiful felt hearts. Then you can use them in many decorative applications, such as making a garland to decorate the fireplace or hang them in front of the window. It's up to you.
What I like most about this DIY idea is how easy it is to put it into practice. Anyone with a little patience, can develop it and get a good result, even those who tell me they are "denied for crafts".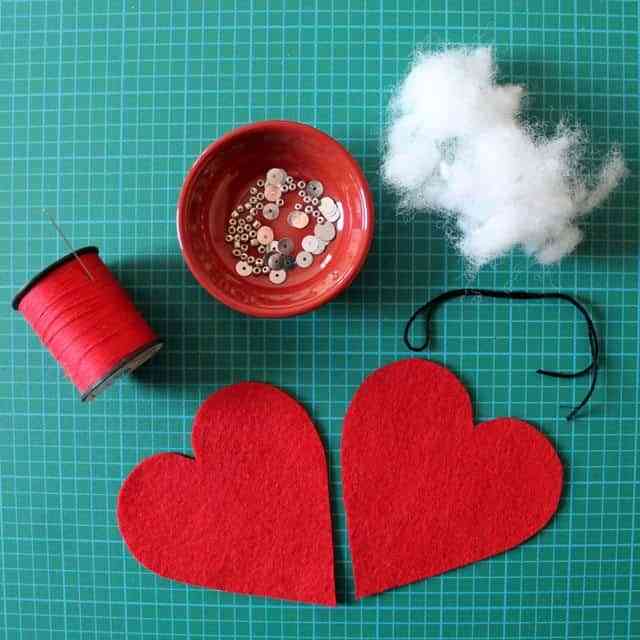 I tell you what you need: red, white or black felt. Bright sequins or beads. Scissors. Cotton for the filling of the heart. Needle, thimble and thread of the same color as the felt. A ribbon to hang the heart when you have finished sewing.
Passion red ... or not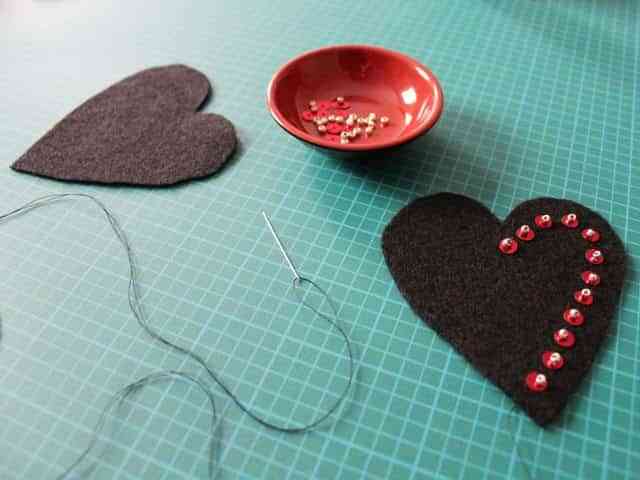 It is true that red is the color that dominates in any Valentine's decoration. However, this does not always have to be the case. I love red and I would choose it for this clothing project, but I understand that other people prefer a more discreet tone to express their love. In this case, you can choose pink, purple, black or any other color that you like. Your better half will be surprised and will like you very much. Insurance!
Once you have chosen the color that you prefer and have managed to gather the materials, it will be time to get down to work. Start with cut two felt hearts of the same size (according to the measurements you want the romantic ornament to have).
Then start to sew sequins and beads in one of them. You can make a row or several. Do it as you like, in a creative way and with your own style.
Place one heart on another and cook them together with hidden stitches. Leave a small hole to insert the cotton until the heart is well filled, to your taste (in my opinion you do not need to put much cotton, with a little enough).
The last step consists of sew the ribbon in the upper part of the heart so you can hang it wherever you want.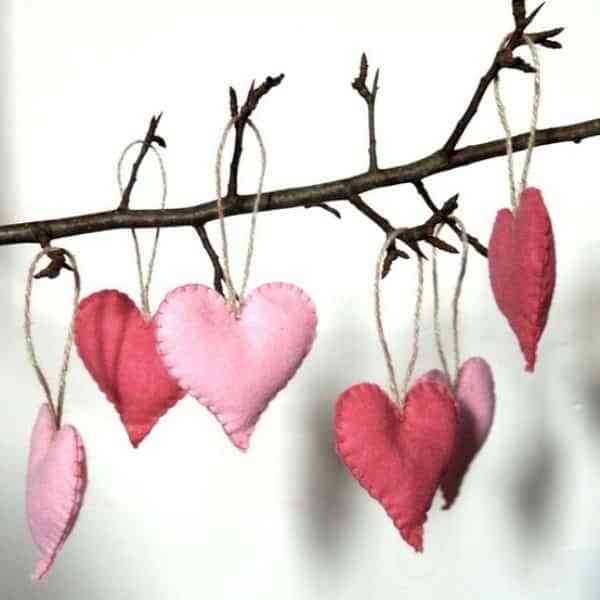 Another idea: Stitch simple pink felt Valentine hearts (you can use different lighter and darker shades, as you can see in the image) and then hang them on a branch of a tree that you have caught in the park. You already have a nice decorative detail for the February 14.
What if you make a garland?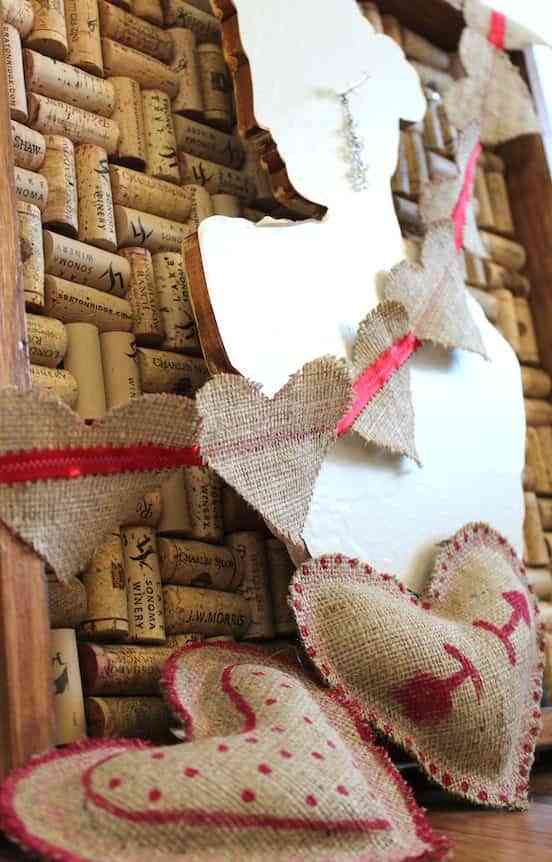 The garlands of hearts for Valentine's Day they are another option to decorate your house on this date so indicated and, in addition, they allow you a wide repertoire of ideas. You can make the hearts of felt as we have shown you, or make them out of cardboard, of another type of fabric, even of sackcloth.
After you have no more than go by stringing them on a string or a ribbon that you like and hang them in your house. At the entrance door you will look great a romantic garland, but you can also put it on the wall or in front of a window.
The key is in combine materials and colors to create contrasts and achieve the effect you prefer. Have you seen how beautiful is this garland of white and red hearts in front of the fireplace? The idea can not be simpler, right?
Be that as it may, if you like hearts for Valentine's Day you will surely find a way to have them well present in your home. You dare?