Ecosmart Fire is an Australian company that is characterized by being at the forefront of the creation of environmentally friendly fireplaces. They use denatured ethanol energy so they do not need smoke pipes and they do not pollute, they are ecological.
They are portable and can be located in any room, all are characterized by the rapid propagation of heat and its maintenance. New, novel and original designs are already available. You just have to choose the one that best fits in our decoration.
Merger It is a fireplace with double opening, autonomous and easy to integrate in various styles of decoration. Its forms are simple, with right angles, and incorporates a protective screen in the front.
It is within the range of independent Designer models, attractive and avant-garde being, in addition to a fireplace, a piece of decoration.
The design used in Zeta It is a unique concept used by Ecosmart Fire. It combines design and functionality, with the fusion of materials such as wood, leather and stainless steel in one piece. The structure is based on a rotating base that allows us to direct the heat to where we prefer.
The coffee table Fire & Ice It is a smart design and presents a coffee table, with fireplace unit included. On the main base is inserted a plate that can be moved from one side to the other, showing on one side the chimney and on the other a hole to use as we want; well with a plant, like the example in the photo, or with anything else.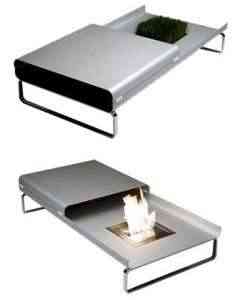 The Q of "look" is shaped like a hemisphere and in the front there is a square opening in which the fire appears. Its structure is made of waterproof materials that include fiberglass, stainless steel and hardened glass, it is also designed to rotate on its base.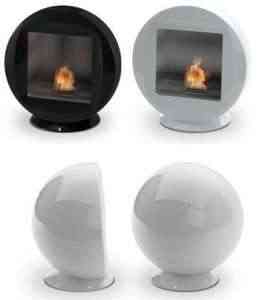 All Ecosmart Fire products are characterized by their functionality, design, quality and cleanliness.
Further information: Ecosmart Fire
Vía: Decoralis