If your little bird does not have a partner and you want to give him a little shelter where he can enjoy his bachelor's, learn to make this beautiful bird house. In addition to offering a place of shelter, we can beautify our garden or terrace with these simple houses.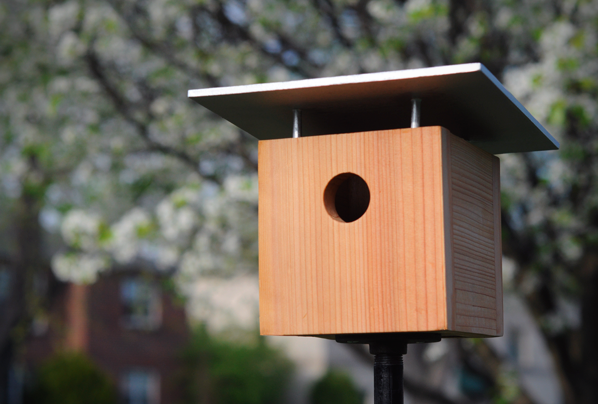 In this way, today in Decoration 2.0, we offer a simple idea with which to decorate our environments and give our bird a small and cozy refuge. Remember that the wooden boards can be taken to be cut with the indicated measures. But if you are a handyman, surely you can do it yourself.
The simplest way to start, this house for birds, will be to form a box with five pieces of one-inch wood.
Remember that we will also need a cover for the upper area, in a slightly larger size than the rest. - If you make it much bigger, it will act as a canopy or shelter from the rain for the bird. Once we have the walls and the floor of the house, we glue them together and stick them together forming a cube. Remember to put some nails or small points, without a head or flat head to make it firmer.
Once dry, we will make a hole in one of the sides. To do this we will help with a drill with a drill bit of about 6 centimeters, we can also use the crown saw. Once the hole is made - door for the bird - we drill again, but this time on the roof with a 4 or 5 mm drill bit.
To hold the roof or top we will use some wooden rods, they should have an approximate measurement of 1 mm smaller than the hole we made to the roof. Fit the rods into the holes, previously made in the box, and then pass them through the holes in the ceiling.
Finally we raise the lid, at the height you want to be fixed, and glue the rods to the ceiling. Once dry-let it at least 8 hours-cut the remaining rods with a small tooth saw, sand the house well and paint it the color you like the most. You can use any type of technique and decorate it as you want. Then varnish it and we have our little house for a single bird.
Via: lasmanualidades.com