If recycling is your thing, today in 2.0 decoration, we propose you a beautiful floral arrangement using egg and button packaging. The result is great and we can brighten any corner of our home in a moment.
The materials What we should use are the following:
-Carton of an egg box
-12 pipe cleaners
-Buttons old
-Acrylic colored paint, to paint the flowers
-Floral ribbon
-Scissors
-barniz (optional)
- glue or vinyl glue
-Wire
What we are going to do first is to take the box and cut out each cubicle or space corresponding to the egg. Recover them separately, each piece will be turned into a beautiful flower of different motives.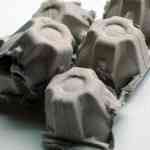 Once all the compartments are cut, we proceed to paint them with the help of the acrylics. Choose the colors that you like the most and adapt to your decoration. Once dry we can add a layer of varnish to protect them and make them more durable. It also brings a bit of brightness.
To continue take the base of the flower, as you see in the image and make two small holes to pass the pipe cleaner through one of them and add a button that we like. Now take this part of the thread to the other hole .. so we hold the flower button.
Now make flowers on one side using, for the stem, floral ribbon in green. Wrap the stem of the flower, which we can make wire and so it will be ready.
Finally, make another type of flowers that do not have buttons, this time the clean pipe will pass through both holes and below the flower. Then with the remains of cardboard we will form a small pyramid that we adhere to the center of the flower and let it dry very well.