Today we will see how to make a great organizer using empty matchboxes. The craft is very simple but it has really amazing results. If you want to learn how to make this original organizer, read on.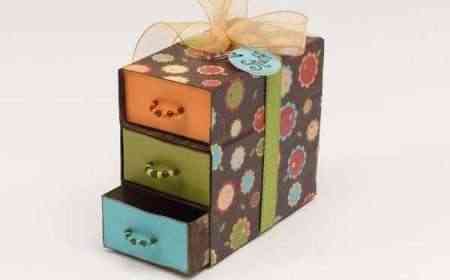 The materials What we will need are the following:
3 large matchboxes
Stamped paper
Cardboard
Glue for decoupage
Cutter
Ruler
Tapes
Temperas
Brush
Wire
Mostacillas
Tip tool
The activity consists of stacking all the boxes and joining them in a functional way to convert them into drawers of a small organizer. For this we can use as many boxes as we want, each one of them will be a drawer.
First we will clean the boxes and paint them with colored paints, then we will glue them one on top of the other and let them dry very well. Finally, we lined them with cardboard.
Now we proceed to cover it with printed or gift paper with the help of the decoupage technique. We adhere to the paper carefully. The next thing we will do is drill the front of the boxes, and drawers, with two small holes.
Now we will pass a wire and make a fold on the inside of the drawer, so that it does not come off. Then we thread the beads and put the other end of the wire through the hole that is left. We close the wire so it does not come out of the drawer.
To finish, we will decorate our organizer with a ribbon. We wrap it well and we can put small gems, pins and everything you can think of.