If you love style Minimalist and you are looking for something different for the decoration of your home, surely the idea that we propose you will love it. The decorative cones are elements that we can use in the decoration of our rooms, providing a modern, curious and elegant touch.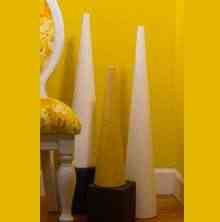 Doing them is not too complicated and we can obtain them in different colors and dimensions. This decorative item is ideal for corners, floors and entrances of the house.
The materials What we will need are the following:
- Foam-poliespan or porexpan- (one of 30 x 6 inches, one of 24 x6 and one of 15 x 5)
-A white and yellow acrylic paint
-Lightweight table
-Brush
-Palette
-Vasija with water
-Sandpaper
-Paper towels
-Spatula
The first step will be to make the putty, for this we will have to follow the instructions of the container to the letter. We must achieve a consistency that can be extended.
Now with the help of the spatula apply the putty on the surface of the foam cones, apply over the entire surface except the bases. Let dry very well.
The next step will be to carefully sand the cones with the help of sandpaper. Now with the acrylic paint we paint the two largest cones white and the smallest we will paint it with the yellow acrylic. Ready!
We let it dry and we already have an interesting composition for our living or room that we want to decorate.