If you find yourself redecorating the your children's room or you want to leave your baby's room ready, maybe this suggestion will be very useful for you. Some beautiful and friendly decorative cubes They will be perfect for the stay of the little ones.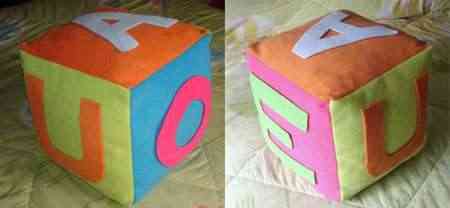 These cubes besides being a beautiful decorative object They will be an attractive toy for children. Didactically functional, these cubes will encourage the little ones and help their cognitive development.
The materials What we will need are the following:
. Felt colors
. Wadding or fleece
. Needle and thread (or sewing machine, of course)
The first step will be to make the letters in felt of different colors and cut them out. Now, using the felt, we will also make 6 squares of the size you want. These are 20 cm.
Now we adhere the letters, of felt, on the pictures that we have cut out. We can do it using a specific glue or by stitching them.
The next step will be to assemble the cube. For this we will join 4 squares, forming a row. To this we add the other 2, in this way we close the cube. Remember that before closing the bucket, fill it with wadding or similar.
Once closed, we can decorate any corner of our baby's room.