In today's article we will explain how to carry out, in a simple way, some attractive coasters for the decoration of the table in all our events. Avoid the brands of glasses and bottles with these beautiful handmade items.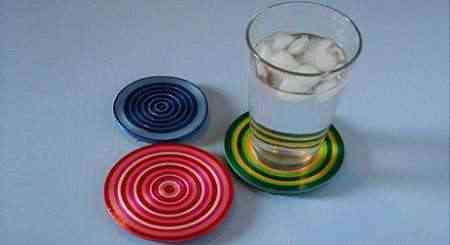 Materials:
– paper ribbons, fabric or the bows of gifts, colors
– glue glue
– cork plate
– cutter or claw
– toothpick
– silicone glue (Optional)
The first step that we are going to do is to locate the first colored tape to the toothpick, as we see in the image. Then just roll up a little and remove the toothpick. Keep rolling the tape until you get the thickness you want. Then we can mix with all the colors that we like, we just have to put some glue on the end and join it with the next color.
Repeat as many times as necessary, until you get the dimensions you want from the coaster. We can do for jars, glasses and bottles.
Finally we will remove a mold with the same size as the coasters, in cork and join with silicone or similar. To be well attached, put some weight on your coasters and wait for it to dry well on the cork base.