Keeping shoes in order and without losing their shape, is one of our concerns. After all, shoes are our favorite accessories. It is not always easy to place them somewhere because we do not all have space for them. But now let's show you that you can convert the lower part of the wardrobe in the perfect place to hang the sandals, Yes, hung with hooks.
This idea is a great idea for organize and decorate with the shoes, take advantage of the clothes hooks that we can easily change shape, cutting the part where we hang the clothes with a scissors to cut metal and place them as a decorative detail as you see in the image, a piece of cloth that you are sure You keep connected to the crafts you have a lot at home to take advantage of. So cut the hooks you have to bend to opposite directions and hang the sandals.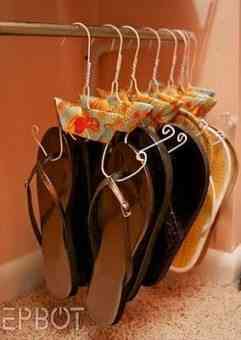 As you know the hooks take up little space and you can use several, placing a metal bar in the bottom of the closet or another corner of the house. After all, sandals do not use them as much and after the summer, we leave them for a while. But usually if they are not saved as it should be, ruined and when we resume them, be discolored, or affected by the humidity of the places where we store them as it happens with some boxes that also take up a lot of space.
Another great idea to get creative and organize our sandals without resorting to miracles because in a small space you can do a lot. This idea for Hang the sandals from hooks it reminds us of the old maxim of the grandmothers, that everything fits in a corner knowing how to accommodate. Arrange those hooks and hang your pretty sandals will be with your shape always at hand when you want to use them, without having to scramble to find them.
Image; Pinterest