Good morning friends, in today's space we will talk about how to organize our bathroom, especially when we do not have many square meters.
If the space is small we will feel overwhelmed, but this can be solved with a proper decoration, according to the space.
Remember that if you lack space, maybe the bathtub is not a good option, sometimes we have to sacrifice desires for comfort and the final restuldo. In this way we will select a nice shower, compact, functional and pleasant design.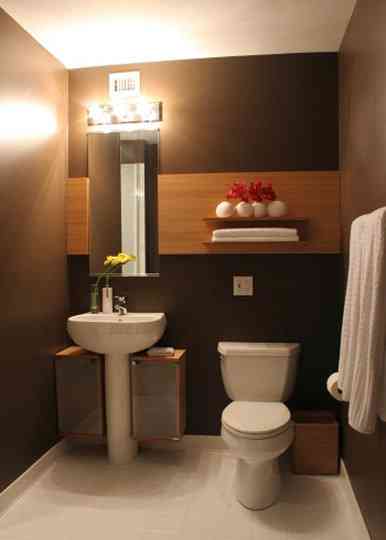 In the market we can find a wide range of designs, this way it will occupy less space in the bathroom. Try to put a glass screen, this way it will look even bigger.
Having places to organize towels and other toiletries, are essential. In this way we will add compartments and small cabinets, but very functional.
Try to look for furniture made with light materials, in this way we can store accessories and products in small spaces. The disorder is one of the worst factors in our environment, especially if we want to show off the decoration.
The details are an essential point in the decoration. In the market we will find an extensive variety of sets and small bathroom accessories. In this way we will provide a very special touch to this room of the house.
Remember that to customize your environments, nothing like adding details to the room to decorate and in this case to the bathrooms.
For example we can locate some hanging planters, using hooks on the ceiling. Also a few shelves, nice glass containers to add amplitude, towel sets, soap ... etc
We hope that these tips have served you very useful, try to always look for furniture with double function and small. In some cases we can tailor them and you'll see what's good. Finally, look for all the corners of this room to take advantage of, such as behind the door and the corners.