If adults can rest peacefully from a nap in a hammock with a gentle swing, why can not babies do it? Instead of his rigid cribs, he sure wants a little nap in this child's hammock. Hushamok.
It is made entirely of organic cotton of the highest quality to ensure its comfort and resistance, and can be machine washed. It is available in a wide range of colors and all combine perfectly with the sturdy steel foot on which it is fastened.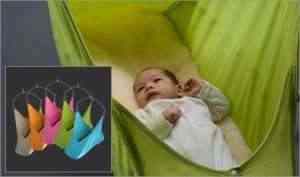 In addition to having it at home for the child to rest while rocking (and not in the arms of mom) is also ideal to take it as it travel is easy to store and comes with a cotton case for storage.
In the United States it has obtained a great recognition by the media and specialists due to its design and its benefits. Hopefully, I will soon arrive in Spain
By the way, it is not advisable to use it with children weighing more than 9 kg. Its price is 429 Dollars (364 €) and you can buy it through several websites like Genius Jones.
More information: Hushamok
Via: Purchase