If you have a safe garden, you have a bank that has been left a little old, disused or that you do not like anymore. Well with this idea you can now give it another purpose. If you do not have old banks and you like the idea you can also buy them in the place that is most economical.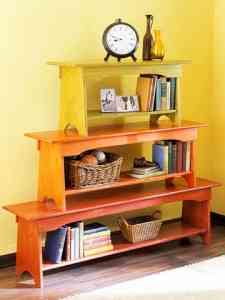 With two or three banks (depending on what you want and what you have) we can make a beautiful and original bookshelf. To make some like those in photography we need:
- 3 wooden benches of different sizes
- 3 paints of different colors
- Brushes
- Carpenter's tail
- Screws
The first thing we must do is to paint each of the banks in different colors (it will depend on the decoration of the home).
Once the three banks are painted and dry, we place the medium one over the largest one. With a pencil we mark where the legs of the bench will be supported, mediated on the large one and on those marks we place a bit of carpenter's tail on each leg. Let dry and once dry we put a screw on each leg to hold the benches well. They are not just superimposed on each other since they could fall and hurt someone.
We perform the same procedure with the smallest bank, this time on the medium one. Once we do the same on this level, we have our beautiful and sturdy bookshelf in which we can store our objects.
Via: Total Home