For the entrance of your home or for a living room, the hangers are decorative complements that will enhance the charm of our rooms. At articulo today we will see how to make this beautiful rack in the simplest way.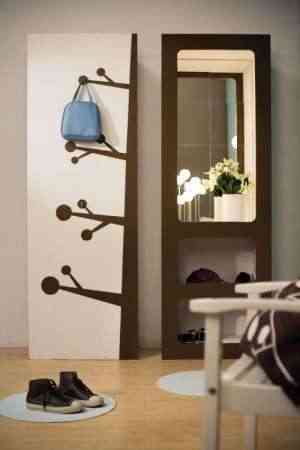 In spite of how complex it may seem, the artistic resources are many and in this way we simplify this beautiful complement, especially for houses with small spaces.
In this way, if we look, we see that this curious coat rack is painted on the wall, minimizing its space ... ideal for small places.
The materials What we need are:
Wall or MDF surface
Ruler
Pencil
Painter's tape
Scissors
Brush
Painting
Hooks for nailing in furniture
The first thing we are going to do is the design of our coat rack, we can help with templates. Find a corner of your house or any other MDF wall or surface and pass the design to it. To do this, draw the design on the surface with the help of a pencil, ruler, square, bevel, compass ... etc.
Now, with bodybuilder's tape, we cover the areas that we do not want to paint, securing all the areas with pieces of tape. Now with the chosen colors we paint the figure, let it dry very well and finally we remove the adhesive tape.
It only remains to nail the hooks that will serve to hang jackets, bags and other accessories.