Today I leave this idea to decorate the chairs facing an event, party or special meeting. Decorating the backs of the chairs is a great option to give prominence and atmosphere to any space. The seats in a wedding, in a communion or chairs that go to the altar ... are some examples of situations in which you can adorn the backs.
There are many ideas to decorate chairs, this is one more. I think it attracts a lot of attention, the fabric used is tulle in two different colors. You can buy some of this fabric or another that you like more. On this occasion the decorated area is only one of the sides of the chair, but you can do it on both sides.
The backs are made of three woods, so this is what will help to hold the tulle fabric well. As you can see it is a simple design, but very attractive and the combination of colors is great. If you want to do something similar, you just have to take two pieces of tulle of different colors; joined by the hand, begins to decorate from top to bottom, from the side of the chair. It exerts pressure so that the fabric is tight and if it is necessary it sees it making a knot for each turn that des.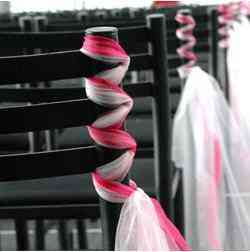 Squeeze quite hard, so that the fabric is stretched and finally make a final knot ... leaving the rest of the fabric to fall (in this way will give some touch of fantasy) As you see there is nothing more to do, no need to sew or paste . But something we can do is include a small bouquet or bouquet of flowers that we like in the final knot ... I think it will give an even more striking appearance. What is your favorite idea? Share it with us!
picture: partyfabulous