Today I leave you with this ingenious idea to recycle some of the toys, the smallest of the house. On this occasion we see a nice dinosaur, which seems to cross a tray and exit through the downtown area. The best thing of all is that the tray is completely functional, in it you can put cookies, buns, sandwiches or whatever you need.
In this case, the dinosaur, is located in the central area to support the weight of everything you put. The tray is completely seated, thanks to the position of the small Rex, thanks to the tail it has .. the whole set is completely well settled.
I think it's a great idea for our children's toys to take center stage in home decoration. If you think you have some toys that could be worth, to make a project similar to this, you just have to take it, take a tray and a little paint in spary.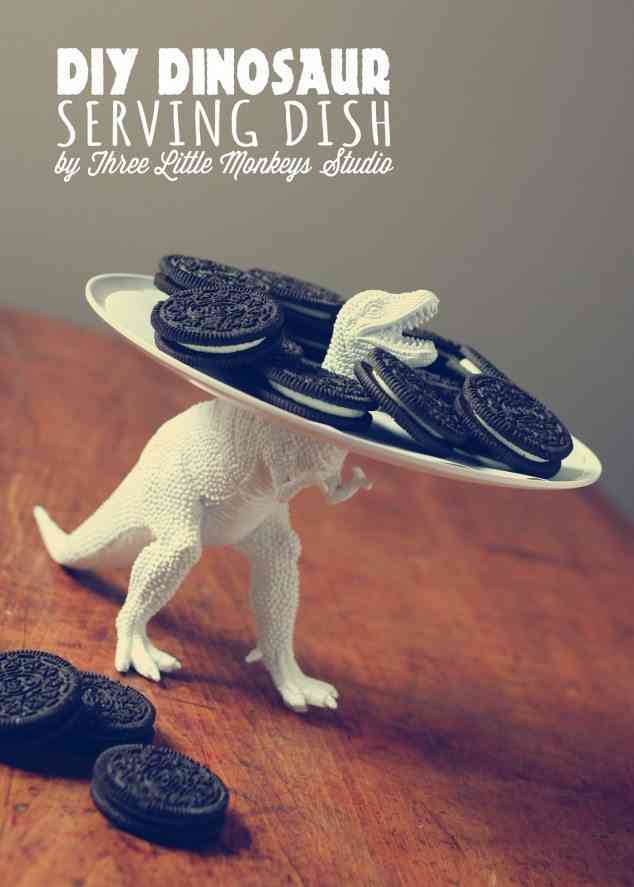 If you can, practice a hole in the central area of ​​the tray; This is where the head of the animal or the toy you put is introduced. Theirs is that it stays fairly fixed, so do not make the hole very big .. press and then fix with glue.
Another great idea is to paint the dinosaur or the doll that you put, in a color that you like. It can be yellow, blue, red ... the one you like the most ... can also go together with the tray. Finally let dry the whole set very well and ready .. you can put cookies and everything you need.
I also see that, in addition to recycling toys, it is a great detail to get food at children's parties .. like birthdays, communions, saints of your children. A very particular way to take advantage of toys do not you think?
photo: topdreamer