Count on a study or work at home space It is always advisable and, in many occasions, absolutely necessary. However, whether you have a room to use in your office or if you only have a corner that you have to integrate into the living room or bedroom, now you can find your ideal desk. You have many models to choose from.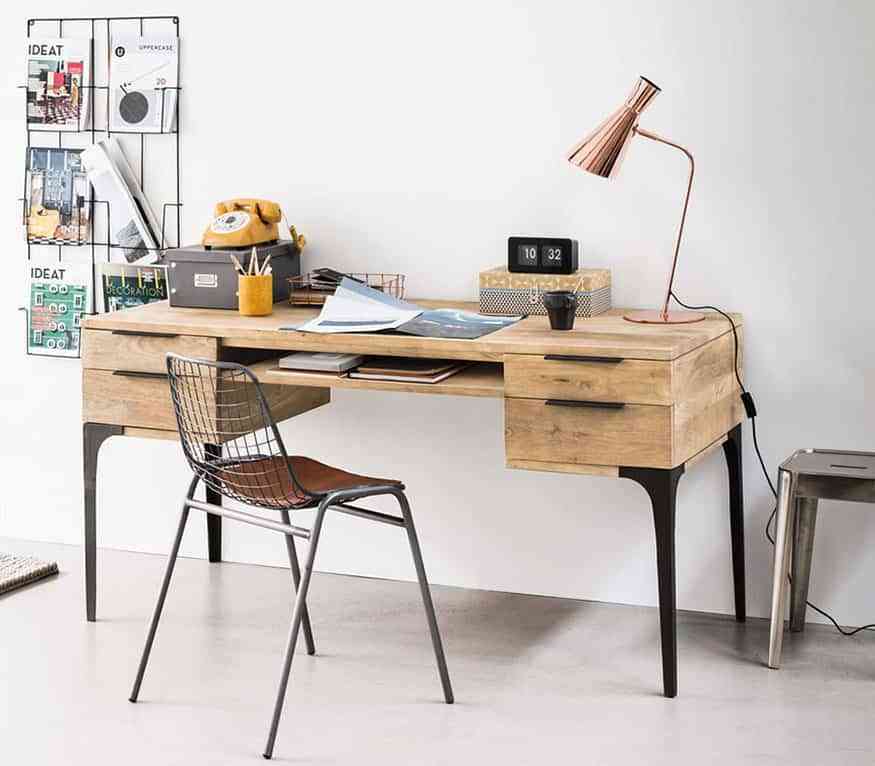 You may be from those who work at home, or you may spend a lot of time studying. Or you may only need a table sporadically to do your drawing, writing, etc. tasks. Anyway, now you can have your ideal desk at home. That which is perfect for you, because It integrates wonderfully into the decoration of the space.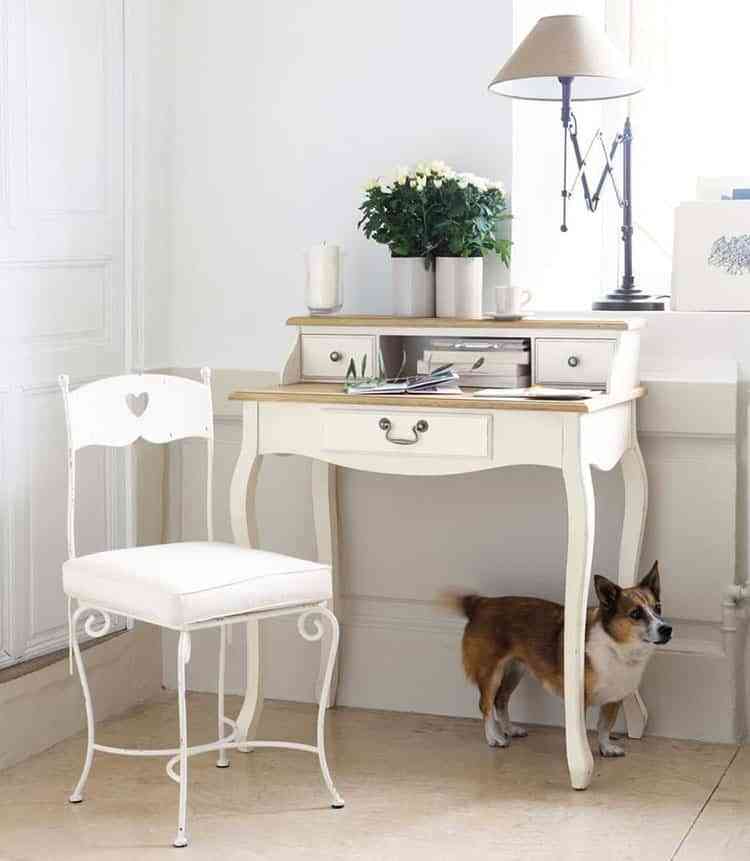 No need to tell you that the table in question has to meet certain requirements, which are not the same in all cases, but we can list briefly: the size (It has to adjust to the measurements of the corner where you will install the work area).
You must also think about the style. The ideal desk should harmonize with the rest of the elements; or it can also be special, in order to create an attractive contrast. Be that as it may, the style of the table is a factor to be taken into account.
The material, or materials, is another of the relevant aspects, when choosing your desk. Although wood is the most usual option, and the most appreciated, there are other interesting options such as metal, glass, etc.
In any case, today we want to introduce you some desktop models that are very special. They are practical and decorative. Surely, among all the options, is your ideal desk. Do you dare to look for it?
Searching for the ideal desk: Nordic style
You know, how not, that the Nordic style is one of the currents that raise more passions in terms of decoration. And that does not stop only in the choice of colors, textiles, or natural materials. Also, as it can not be otherwise, it is reflected in the furniture design.
This wooden desk responds to the keys of the purest Nordic: slightly oblique legs, light wood and straight and simple shapes. I especially like the combination of wood with the white color of the drawers. In addition, it is very practical, since you have space to store and an open space to store the laptop when you are not using it. It could be the ideal desk you're looking for, do not you think?
Classic, painted black
You could say that this is my ideal desk. Or one of them, because the truth is that with such a varied and decorative offer, there is a lot to decide. But I especially like them the classic forms of this desk, with its curved legs and drawers with bronze handles.
I have to say that although the image is seen in a harmonious environment decorated in the purest classic style, these types of desks are also perfect for more modern environments, where they get great contrasts. Imagine it in a corner of your contemporary living room, with furniture with straight lines. What would not be out of place? Especially if you combine it with a modern chair, upholstered in an intense color or with a striking pattern.
With combined materials
Not just wood, not just metal. Better, both. The combination of materials It can be the key that will result in your ideal desktop. Most often you will find models with iron legs and a wooden board.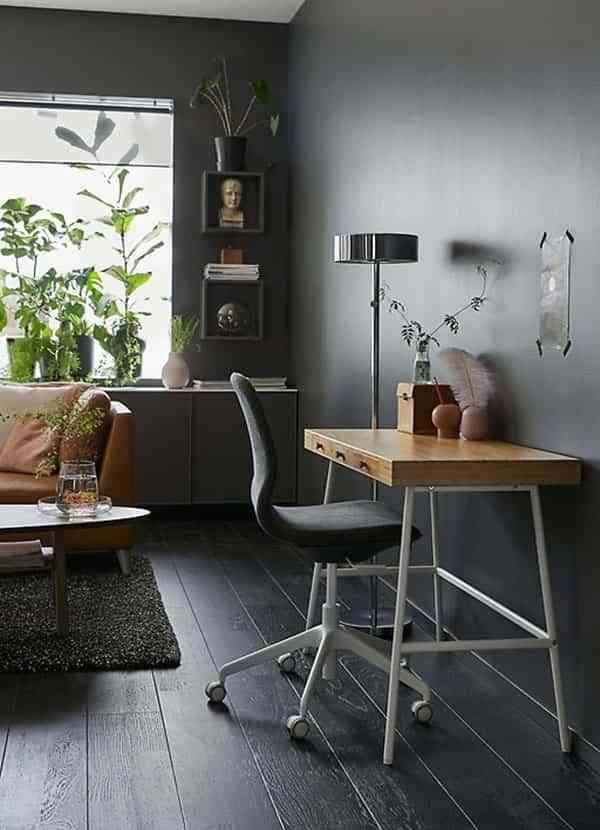 From this mixture, the possibilities are many. Since designer desks with original legs like the one in the photo (in this case, painted a striking green), even simpler ideas. You choose.
Industrial style
As if I had left an office in the middle of the 20th century, an industrial style work table It is very attractive in a space decorated in that line. This photo has everything to succeed: some black iron legs that combine with the rough wooden board, and two metal drawers painted black and gray.
Another option is to choose a desk made of iron, with metal box-style doors. A style that goes very well for youth rooms, like the one in the image. Surely it is your son's ideal desk. He will love it!
For very specific space needs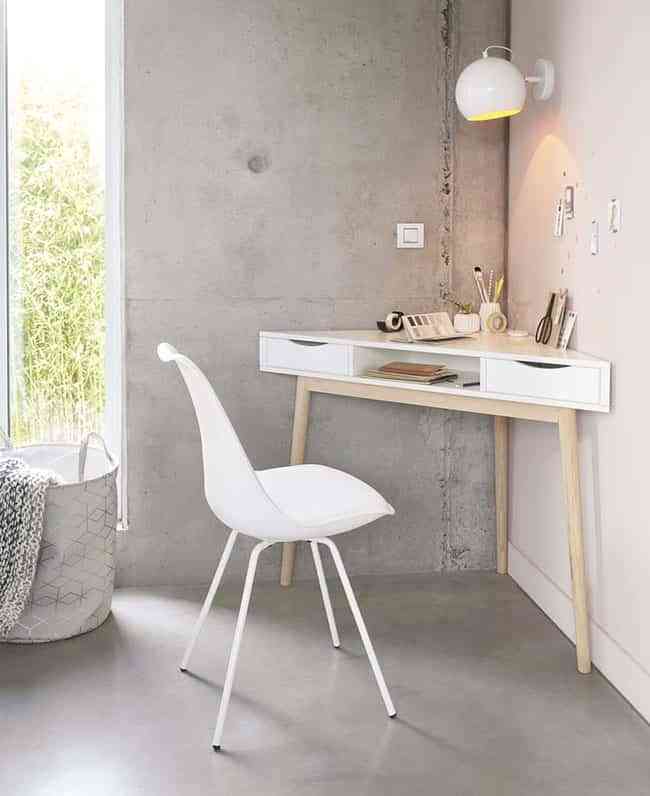 When we live in a mini house, with a small room, our decisions are conditioned by the available square meters. There is no other. Therefore, in these cases, special solutions are needed, and the market offers them to you.
Like this corner desk, that can not occupy less. You have the space just to put the laptop or work with the tablet. And there are two boxes that help you keep the essential elements and keep the table in order.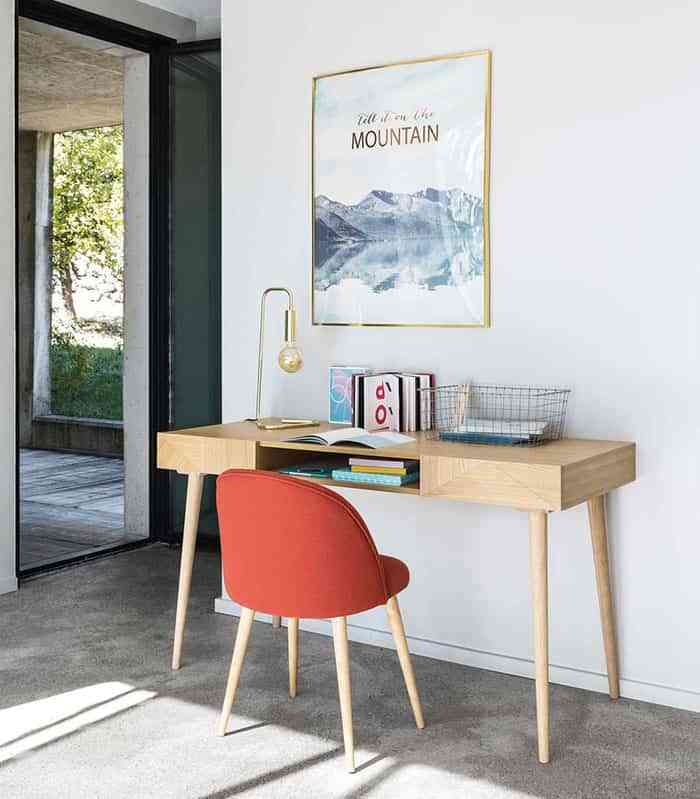 Or this one work table in true console style that, thanks to its narrow shape, is perfect for you in the corridor or in any narrow area or step where you have to put it.
With these ideas I hope we have convinced you that finding your ideal desk is not an impossible task, or even difficult. You just need to stop and think about your real needs, and let yourself be guided by your tastes At the time of choosing. What is your favorite desk?