Today I want to show you some ideas with a lot of charm to decorate that I found:
Sample in the dressing table your bath, your favorite products. Of course, it is not about showing them in any way.
To do it with charm, keep several glass bottles transparent, they can be the oil, the water, the vinegar ... The bottles will serve you to show your bath salts, your favorite bath foam, your most personal cologne, your moisturizing cream, etc.
Place on each bottle a nice sticker that indicates the product it contains (you can find labels similar to those in the image in stationery stores).
Finally, place the bottles on a metal tray and also add a glass or other bottle with your favorite flowers.
The result is this: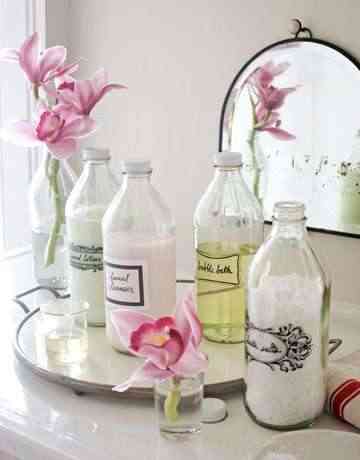 A charming idea to create a kitchen lovely:
The effect that is able to create a lamp Uncommon in your kitchen is really amazing. Not only is it able to add color to the kitchen, but it also creates a point of visual interest and brings warmth, thus contributing to creating a cozy and, of course, charming atmosphere.
These are two very simple ideas and very easy to carry out, as well as economic.
For the first idea you just have to recycle some glass bottles.
For the second idea, it is true that a lamp is a somewhat more expensive item, but it does not have to be a new lamp. If you have an old chandelier or vintage style at home, paint it with spray paint and it will look perfect. If you do not have any lamps at home, look for flea markets or second-hand shops, if you like the design, with a little paint and, if necessary, small modifications, you could make it the perfect lamp for your kitchen.