You may live in a rental house and have a fussy eater. Or the condition of your walls may be delicate. Or maybe it's that you do not like using the drill to pierce the wall. Whatever the reason that covers you, today It is possible to decorate with pictures without making holes. We tell you all the solutions you have at your fingertips.
If it happens to you the same as me and you do not conceive to have the walls of your house bare, then decorating all the rooms with paintings will be something natural for you. And who says pictures says photographs, posters, posters or any other form of graphic art. However, there are times when the holes in the walls are totally contraindicated. What to do then? Are there alternatives?
The answer is yes. There are different ways to create a picture gallery without having to pierce the wall. Here we leave you a compendium of solutions for all spaces that can help you to have a house to your liking, without having to nail a nail.
Decorate with pictures on the floor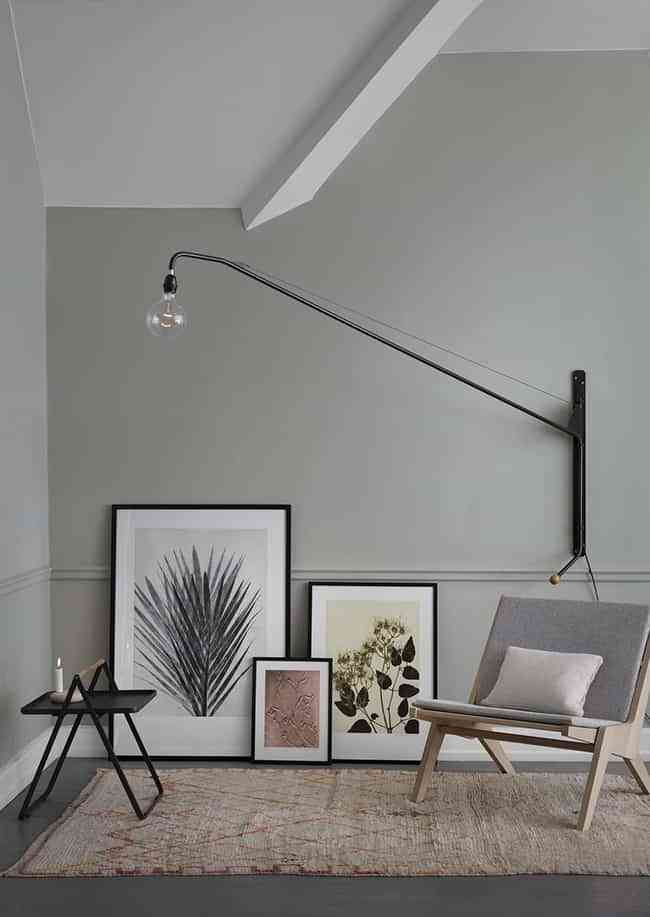 It is one of the easiest ways to enjoy the vision of your favorite paintings, without having to hang them. It is, simply, support them on the floor and against the wall.
In order for the idea to work, it is necessary to treat paintings of a considerable size. And also it is better to put several, instead of only one. Small squares are not well exposed in this way.
A shelf on the wall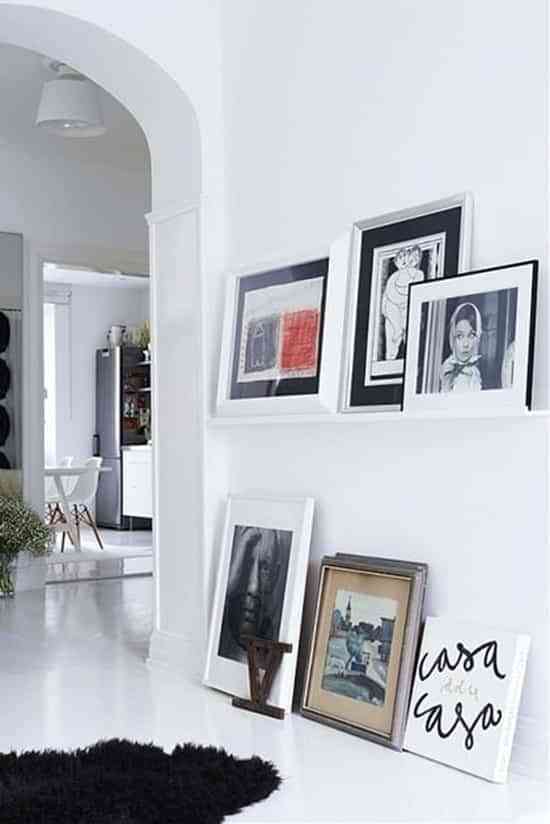 The purpose and sole purpose of installing this type of shelves on the wall is that of place on it boxes of different sizes. A way to decorate with pictures without making holes.
These are narrow shelves, equipped with a flange that prevents the frame frames from slipping. You will find them in any decoration shop, of different sizes and in different colors and finishes. So you can choose the one that seems most appropriate to the rest of the furniture or accessories.
It is a good way to solve the problem, although you have to think of a method to fix the shelf to the wall. The good thing about this idea is that You can change the boxes as many times as you want, with which the decoration acquires a very special different air.
Framed with washi tape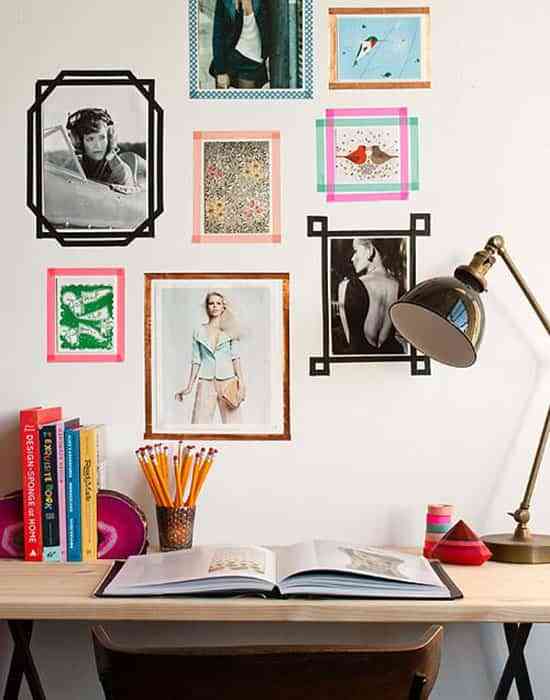 This kind of colorful cellophane ribbon coming from Japan has been (and still is) the most famous for a long time. It has an infinity of uses and applications, especially in the universe of crafts and also decoration.
For example, it helps us to decorate with pictures without having to make any holes. The idea is especially suitable for displaying photographs or pictures that do not weigh too much They stick with washi tape framing the image in question, which adds a very decorative and original touch.
You can combine photos and ribbons of different designs and colors in the same space, what is really dynamic and fun. You like?
On a perforated panel
I have already spoken to you on other occasions about the decorative uses of perforated panels o pegboards, why are an order and storage solution that I love. Not only do they seem useful, but very decorative. And, in this sense, they provide a great idea to decorate with pictures without the need to nail.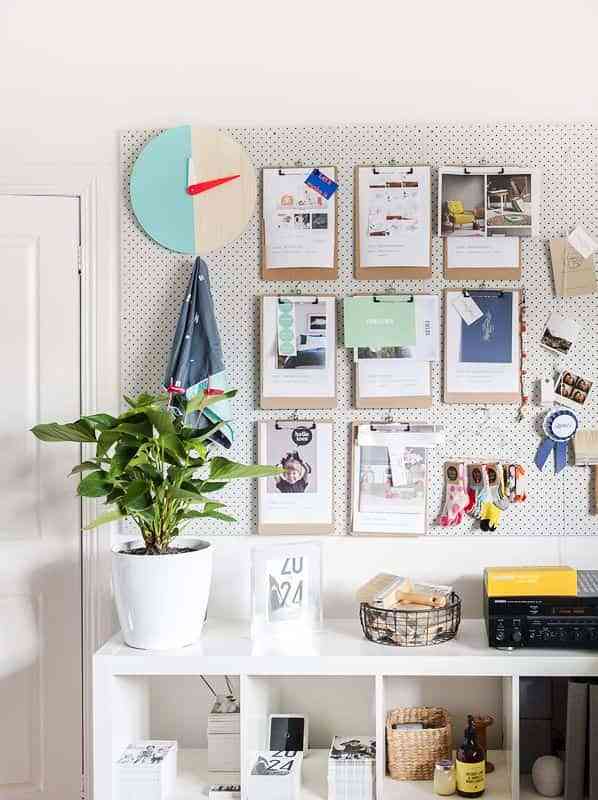 So forget about the drill, place a nice perforated panel on your wall and hang whatever you want. Large, small, medium squares ... You can put a small panel or cover the wall from top to bottom. You have total freedom!
On a metal grid
This idea is similar to that of pegboard, but the support changes and, with it, the final decorative result. Bet on this solution if you like the metallic finish. You can choose the color that you like the most: with copper effect, gold effect, in black metal ...
The good thing about this option, which it shares with some of the previous ones, is the great versatility it offers when it comes to change the decoration. So it is possible to replace the paintings and achieve a different effect in a pispás.
Any of these ways to decorate the walls of your house with paintings They are practical and decorative. By not having to drill or make holes, they are not definitive and that allows you to change things whenever you want.
In addition to the ideas that we have brought you today, there are other methods that you can use. As the adhesive hangers that can be removed without leaving marks, the putties to stick to the style of the Blue Tack, Or the double-sided tape If you decide on this last option, be careful with the one you choose. There are double-sided tapes that support a lot of weight, but it will cost you a lot (but a lot) to tear off the wall in case you want to do it.
Have you found the perfect solution for you?