Placement of furniture Overall, of any stay, it is very important. According to the function of each space, in particular, the location of all furniture and objects, in this, becomes essential when it comes to achieving the best decoration. The importance of the function given to the room is just as important as providing the appropriate touches so that the decoration fits our needs.
Therefore, in this first section, we give you some suggestions that serve as inspiration as an organization, to achieve maximum functionality, comfort, and practicality on this occasion, in the living room of the home.
If you love to preserve a corner for your meetings, a good idea is to locate the furniture in a way that helps create this environment. The sofas, armchairs and chairs will be placed relatively close, leaving the rest free of the room. This will be ideal to be able to chat comfortably.
The general composition will be rounded, contouring a central table - its epicenter is not necessary to be just the center of the room - this way we can have easy access to the surface. This option is ideal to receive our friends, family or all our loved ones. It is transformed into an intimate corner that we can illuminate with lamps of dim light.
If instead we have a family room, where there are teenagers, a good idea is to organize the stay in such a way that we can chat, laugh, talk and establish a visual contact without having to do the same activity.
For this we will create leisure areas, think about the things that your family likes like computer games, consoles, board games, books, music ... etc! In the image we see a table with board games, and a piece of furniture with letters near sofas, armchairs and television. In this way everyone can socialize with everyone, television can be seen by all members and, in addition, can establish visual contact within different leisure areas.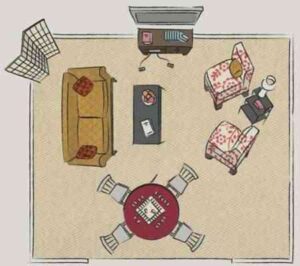 In the following publication we will see some more ideas to tell in case we want to give a new air to our room.