The day Valentine's Day It is already very close. Gifts, dinners, trips ... Each couple is a world and everyone celebrates and shows their love in the way they like it. However, a regular Valentine's Day is to set some corners of the house to celebrate in privacy ... This is where we enter, just when the decoration has an important role in the celebration and setting for this special day. Here are some ideas:
If we talk about decoration on Valentine's Day we have to talk almost necessarily about the red which, in this case, evokes the passion and of course, the hearts that refer to love ...
Nothing better than some Candles to create a romantic and very intimate atmosphere. With simple white candles and some tissue paper you can create these original candles that you can place on the table or in the room.
Also on your table you can place some pretty napkin rings like these, to make them you only need a little cloth.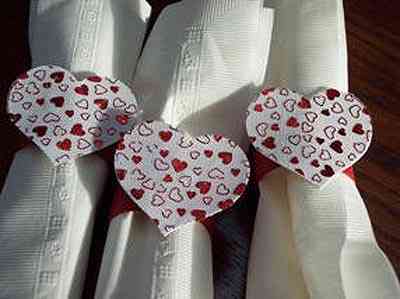 The flowersThey are also an ideal decorative element in these cases ... And the protagonists par excellence on Valentine's Day are the red roses.
Any vase or glass container serves you. Place some fabrics with red motifs around the vase, attach them with a pretty bow and put the roses inside. It is perfect for any corner.
And, of course, reserve some of the roses to defoliate and decorate with the petals the room or the bath.