Many times we have seen how the kitchen furniture They acquire vital importance within some trends, but the truth is that beyond the tendency for which functionality is inclined, it must be found latent throughout the place as a registered trademark of its way of life.
That is why this time we will dedicate ourselves to show you a range of furnishings that beyond the trend in which they are included can make their kitchen look prettier and decorated, decongesting spaces and providing comfort to its occupants.
Compact Concepts, is a clear example of the idea that is intended to transmit, the company devoted to the design of furniture for kitchens, has developed these rotating models in which we can include absolutely everything necessary for our daily lives without losing spaces, and won style.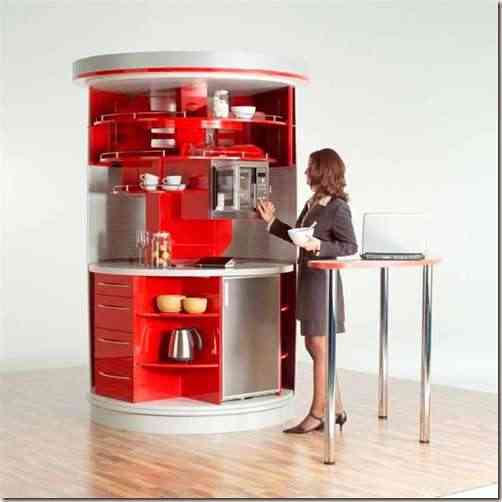 On the other hand we can see how the spaces provided by the practical breakfast bar, are able to not only provide a daily solution at the time of eating but to store a number of accessories inside that point to the beauty of our kitchen.
As we can see in this solution of the American company Evo desing, within a beautiful bookshelf lacquered in wood You can hide a room, making the most of the space and keeping the little ones under our control while we cook or prepare different appetizers.
But if we talk about evolution in furniture for kitchens and optimization of spaces we can not leave aside the solution provided by the creator Brainchild by Mario Weiss , which makes a piece of furniture that at first glance would not say much, but inside it hides a full kitchen, This is an incredible solution for small flats and small spaces.