During Holy Week, in addition to religious reasons, Easter eggs They are a classic in decoration.
Several times we have already talked about how to make and decorate Easter eggs. Although, if you are not very handy, you just do not like them too much or do not like them CraftsToday I bring you some ideas so that you can decorate your house easily without the need to invest too much time in manual activities.
If you have prepared a family dinner or some runion, this idea will serve to convey through the decoration of the table the spirit of Holy Week to your guests.
It is simply about choosing one or several baskets and place some herbs and eggs on them in a way that looks like a nest. If you wish, you can also add some flowers, as shown in the image; This way you will add color and charm to the table.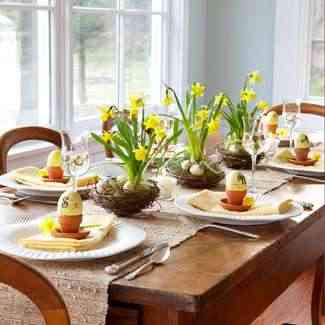 If what you want is a centerpiece delicate, romantic and with a certain air vintageNotes: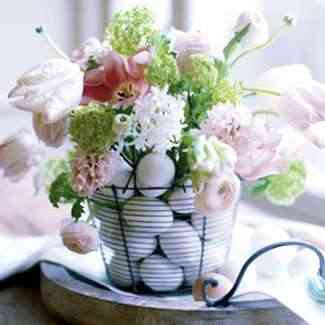 The idea is very similar to the interior although, in this case, we will use white eggs and between them we will place different flowers in pastel shades until we achieve a nice floral arrangement. Do not forget that the container must be transparent or let see the eggs that have been placed inside.
This is how easy and simple it is to decorate the house ... All you need is to take these ideas as reference and put them into practice to decorate your home, you can even adapt them to the decorative style of your own home.
You no longer have an excuse to not decorate your decoration in this Holy Week.