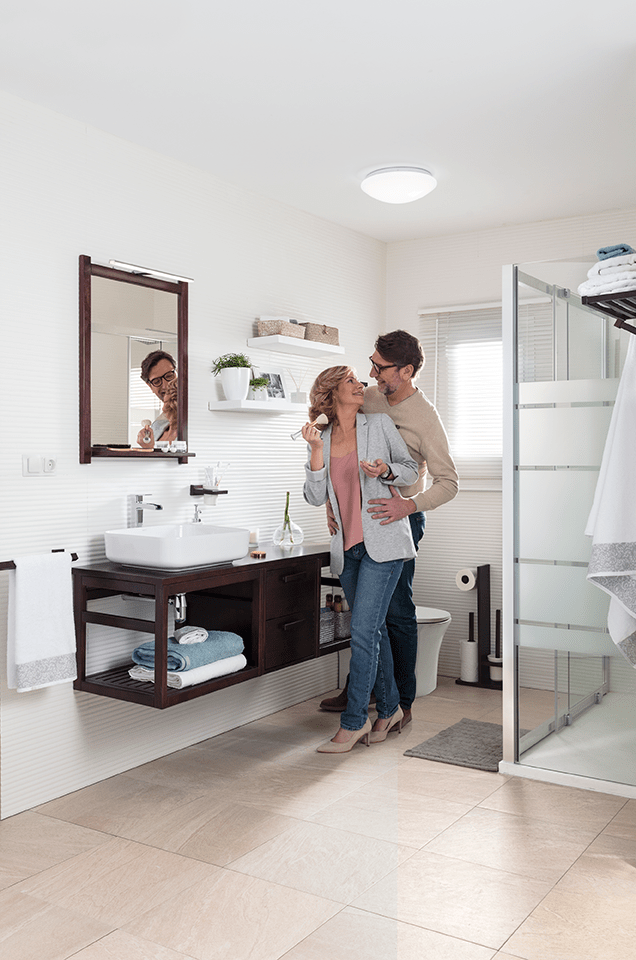 Living as a couple means sharing many things, from domestic tasks to space. The space on the sofa, in the cupboards or in the rooms of the house. And the bathroom is one of the corners of the house that cost more to share, especially if you both have to use it more or less at the same time. Today we give you some keys so you can pose successfully a bathroom for two. You'll see how many of the problems and morning discussions end ...
Dawn, the alarm goes off and a new day starts. And it's time to shower, to get ready to go to work, to share the bathroom ... Well, if you want to avoid arguments and tense moments with your partner, the best thing is renovate the bathroom so that you both find in him your own space. Discover how you can get a bathroom for two, practical and decorative, that you can use at the same time in a comfortable and relaxed way.
While it is true that there are some things we can do to facilitate the matter of sharing the bathroom with your partner, it is also that One of the fundamental requirements is to have enough square meters. The broader, better solutions we can put into practice.
A double sink in a bathroom for two
It is one of the first determinations that you have to take when planning a bathroom for two. The double installations They are a great resource so you can share the bathroom with your partner without any discussion. Two sinks with two taps and problem solved. Of course, you have to have enough space available in the bathroom to put a countertop of at least 1,20 m.
Other similar solutions to keep in mind are to put two sinks with two separate pieces of furniture, a more independent alternative, and that provides great comfort when two people use the bathroom simultaneously. Or you can also choose a large sink with two taps.
Bet on independent storage spaces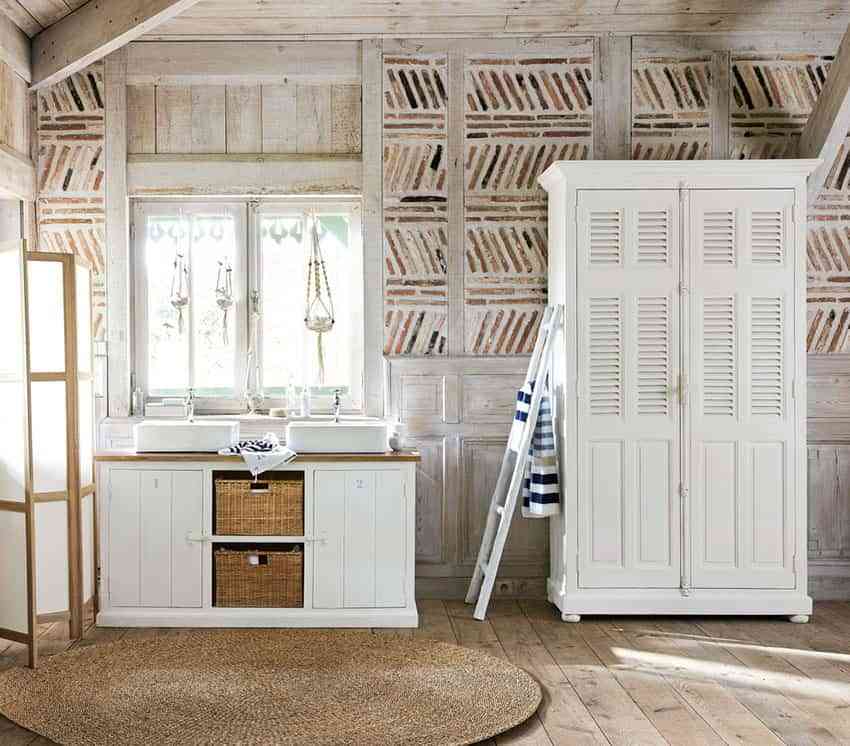 That everyone has their things at hand and in their own furniture It is one of the keys to sharing a bathroom for two. Thus, a maniac of order can coexist with someone totally disordered without having too many altercations. Or, at least, they can have a single bathroom for two.
Both members of the couple will know where and how they keep their personal effects of cleaning, and will be the only responsible for these objects. Whether bathroom furniture under the sink, as exempt cupboards, drawers or simple shelves, the best is distribute the space in a rational and equitable way.
You can complete your drawers with separators that organize the space available to save. Or look for other solutions that suit your needs.
A mirror of XXL size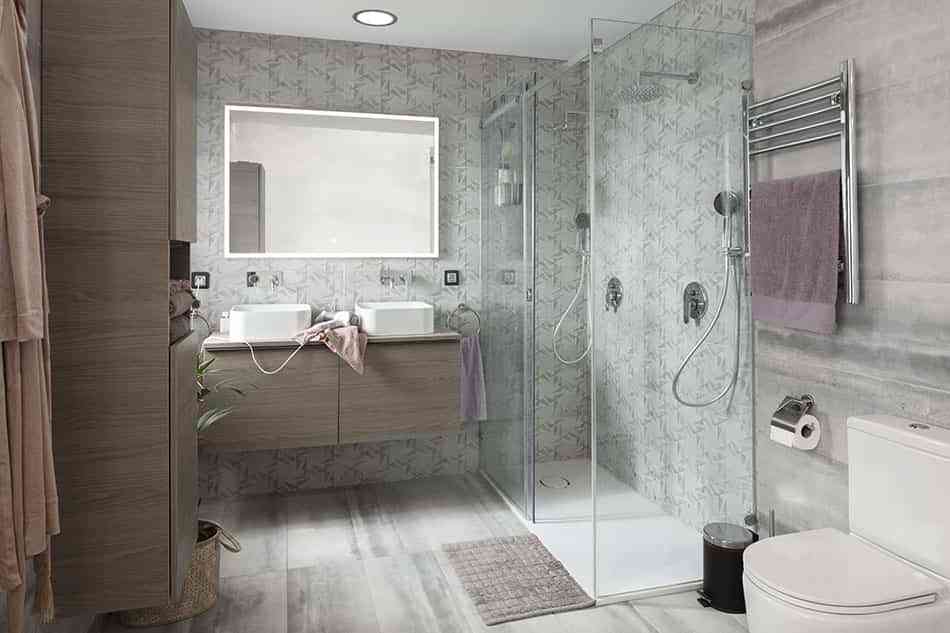 While he shaves, she can put on makeup without problems. And the secret so that both can do these tasks at the same time without bothering the other resides, also, in the fact of have a large mirror
In addition, today there are bathroom mirrors with a lot of interesting features to choose. There are some that have adjustable and intelligent lighting, that do not fog because they are anti-fog, they have a built-in magnifying mirror, etc.
The shower, better double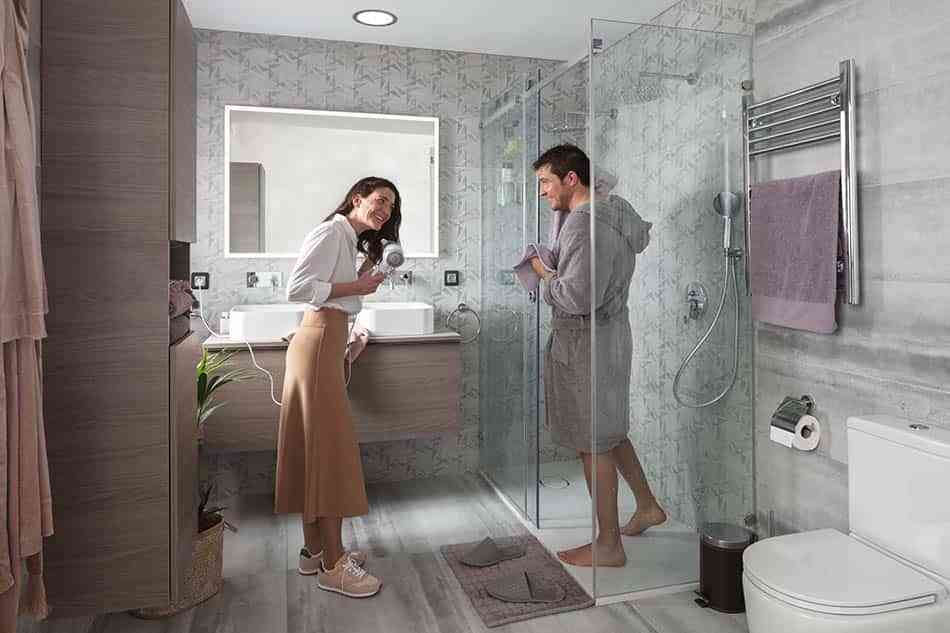 It is still a matter of space, but a double shower It is a good idea when using the bathroom as a couple. Or both at the same time. The truth is that, if possible in your bathroom, having a large shower with a large plate is a great idea.
You can even have two faucets installed, with their support and sprinkler, so that both people can shower simultaneously without problems.
And if what you want is enjoy more privacy When it comes to using the bathroom at the same time that your partner does, there are ways to get it. You can, for example, separate the toilet area with a low wall. This idea is practical, although you will need to have a spacious bathroom.
And what do I do if my bathroom is small?
When we have limited space in the bathroom but we have to share it with our partner, we will have to choose what is for us the priority. A good idea is to put two sinks with a spacious countertop, whenever possible, and sacrifice storage space and make a normal shower, instead of making it more spacious.
After all, the most controversial space when using the bathroom is the sink, the counter and the mirror, so we can give these elements the maximum role.
Also, if your bathroom is not very big, you should choose light and bright colors for walls, floors and toilets. The sensation of amplitude will be greater.