A prominent feature of the colonial house, which distinguish it from the rest, is that they possess central corridor and central staircase.
In general, the colonial houses have two floors with the cloning of the second floor of the first. They mostly had fireplaces on both floors to warm up. On the other hand, these types of homes usually have a very open look when you enter the front door.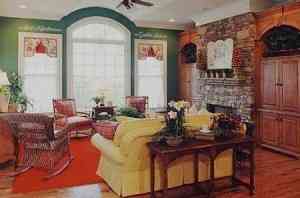 It is also surprising that there was no water flow at the time of the settlers in the first place. Nowadays, new and creative forms have been used to add heating units and pipes.
Here are some ideas to decorate your colonial house.
Add a new bay window
A lookout will allow the light to come otherwise to a close in space. Often, colonial houses need more windows than they usually have.
Add a unique door
The focal point of a colonial house is the door therefore, it is necessary to add something unique and beautiful. In a colonial house, the door is first noticed by the guests.
Add Crown moldings
In an earlier era, colonial houses had simple castings. A lot of characters can be added by adding a nice crown molding.
Add roof beams in box
Adding box beams to the ceilings are the ideal way to decorate the colonial house, as in the mid-nineth century, roof beams were common to colonial houses.