Taking advantage of the space we have in our house or home is essential to achieve a comfortable, functional and harmonious decoration.
Today I am going to give you some ideas that you can apply to separate environments of your home.
In this first image you can see a simple and very practical way to separate two environments that are in the same space.
Simple ones frameworksthey will help you achieve that division. In this case the frames are included in strips that go from the floor to the ceiling. If you do not have a similar structure, you can hang them from the ceiling with transparent thread, it will seem that they are floating and will create a great visual impact very pleasant. If you wish, you can include photographs, paintings, etc.
If you want to include in your room un dresser but you do not have a space enabled for it, you can adopt this idea:
It's about placing the closetin the center of the room, using the back of the wardrobe as the headboard of the bed. As you can see in the image, the closet itself will separate the sleeping area from the dressing area.
The curtains They can also be very useful and decorative when separating environments.
In this image a perfect division has been achieved inside the room, separating the sleeping area from that space of the mini living that has been created inside it.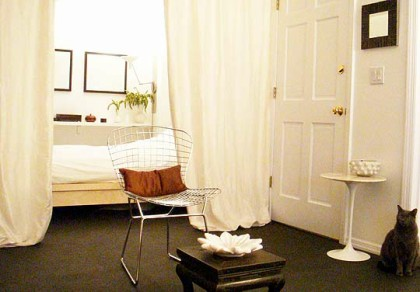 The last idea is the shelving. This last solution is one of the most used, perhaps because it punctures very well: it is a practical, decorative and comfortable solution.
A beautiful bottomless shelf can always become a perfect tool when separating environments. In addition, it is very useful.