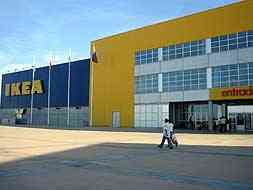 Almost a week ago, last Thursday 24 of June, Ikea inaugurated its first photovoltaic production plant in Spain, on the cover of the multinational store located in Sevilla. With this installation, it will be possible to save 180 tons of CO2 emissions, and it is part of a pilot scientific project whose objective is to evaluate the performance of the different solar photovoltaic systems in which three other Ikea stores participate: Broooklyn (USA), Ghent (Belgium) and Rostock (Germany).
At the Seville plant, 1.830 plates have been installed that will produce 367.697 kilowatts / hour (KWH) per year, which would be equivalent to the estimated consumption of municipal buildings and street lighting in Castilleja de la Cuesta, where the Ikea store is located. in a month.
The plant in Seville already has six different types of solar panels, covering almost half of the roof of the Ikea store, of about 6.700 square meters, directly carrying the energy produced to the electricity grid for distribution to users.
The installation is part of the "Ikea is renewable" project, which is aimed at combating climate change and the production of renewable energies to achieve it. The purpose, in addition to the ecological purpose, is to ensure that the 100% of the energy used in all its stores, distribution centers, own factories and offices of the Ikea group comes from renewable energy sources. The goal of the company is that year 2015 stores around the world are equipped with electricity production systems from photovoltaic solar energy, and Seville is one of the pioneers in this installation.
In addition to this new initiative, Ikea has a global commitment that is embodied in five dimensions: sustainable living at home, sustainable use of resources, responsibility with people, transparency and minimization of the carbon footprint.
Vía: Diario de Sevilla