In order to have all the nooks and crannies of a well-lit room, Until now, it became difficult. In order to do it, we needed a auxiliary lighting system... but now cover all angles, of any room, through good lighting ...es posible!
Thanks to the new Quadrille series, Of the brand Concord and company Havells Sylvania. This excellent proposal includes a small Occupancy and daylight sensor system.
This type of technology allows us reduce the energy consumption, something essential for the lighting systems of today.
Como alternative lighting It's great, since we're usually used to a lighting system that does not cover all angles, in this way they would leave Unlit areas of the same stay having to resort to auxiliary accessories.
With Quadrille We will have a suspension linear lighting that offers us a elegant solutionversatile and attractive
Installation costs, for example in the four-lamp module that has double length, can be placed at a reduced price and quite affordable. Likewise, the Optional electric plug system fast brings us some additional savings.
This great series includes a intelligent system, which allows save energy and operation costs. It also makes it easier for us artificial light is regulated so that the ambient light ... which is the combination of the artificial one with the natural light, remains constant.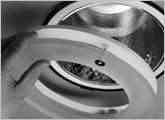 If you reconcile looking for an alternative, to classical lighting, perhaps this article can be of great help. Entering the Sylvania website we can find the catalog with all its products. Once inside we only have to download the catalog in the language we want.

Illuminate any Corner... it had never been so easy.