The months of effort of Miquel Barceló They have finally been rewarded. Almost two years of work, 35.000 kg of painting and a team of 20 people have resulted in the Dome of which is already the Hall of the new Council of Human Rights, at the United Nations Palace (Geneva).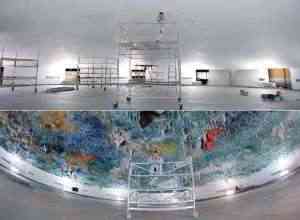 Yesterday the new hall was opened by His Majesty King Juan Carlos, the President of the Government, José Luis Rodríguez Zapatero, and the UN Secretary General, Ban Ki Moon. The king expressed in his speech the "undoubted creative beauty and expressive force" of the dome. A turbulent sea created with stalactites or sprouts of paint that "jump in the eyes of the spectator", in the words of the artist himself.
The investment has been a 60% of private capital and the rest, 7,4 million euros, of the Spanish State. Of these, almost 5 million correspond to the Ministry of Foreign Affairs and Cooperation. The rest belongs to autonomous communities. The total cost has been almost 20 million Euros, according to the Foundation ONUART, in charge of the project.
The controversy came when it was learned that part of the investment was financed with a FAD item (Development Assistance Fund), about 500.000 €. The PP has come to denounce that the project has been paid with help that had to go directed to buy vaccines for children, something that the Government has denied categorically affirming that no money has been diverted from the fight against poverty to restore the room. To clarify the matter, the Secretary of State for International Cooperation, Soraya Rodríguez, "more than half of the aid from the FADs is not Official Development Assistance", only that which is established by the Government according to the rules of the Organization. for Economic Cooperation and Development (OECD).
Vía: El País