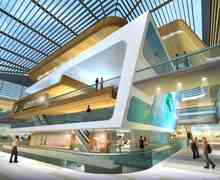 Within a few months our country should prepare to receive one of the most ambitious projects in the business and decoration world: Inspire Deco Is a specialized shopping center, the first platform of this type that arrives in Spain, and the company in charge of carrying it out is ING Real State Development.
The project, which will be ready for 2010, will represent the largest concentrated offer of products, brands and services related to the decoration and habitat sector, some well-known companies and others new ones, that disembark for the first time in Spain.
Divide three concepts in the same space: Xperimente, Inspira Mall and Inspira Garden. The first of them represents the heart of the project where different types of homes and decorative proposals created by avant-garde designers will be recreated. Luis Galliussi. Here you can also have personal advisors who will guide you, attend conferences, dynamic and interactive exhibitions on design. Inspira Mall is the space where national and international brands will be located and Inspira Garden will offer visitors a door to nature in which to find spaces for relaxation, leisure and gastronomy.
The chosen place for your location has been Madrid, specifically the Km. 22 of the A-2 at the height of Torrejón de Ardóz. The reasons for the choice are obvious: its easy access, the good connection with other communities and its great visibility.
Inspira Deco will occupy a surface of 44.000 m2 and expects to receive a volume of 6 million visitors during the first year. The investment has been 90 million euros and will generate 1.100 direct jobs and indirect 2.700.
Via: Franquicias.es