Before a profound reform en casa or a complete decorative project In our recently opened house, we can not forget to integrate the ceilings in their design. Most of the time they are the big abandoned, in favor of walls and floors. However, can increase the comfort of the rooms and, of course, captivate us if we painted or papered them with audacity. Do not forget them.
Actually there is not a single strong reason to integrate the ceilings in the decoration of the rooms when we decided to condition them. There are many possibilities that offer if we play all your cards well. Take advantage of their height, light them with elegance or cover them with warm coatings. They can contribute to enjoy a more round and infinitely more overwhelming and personal decoration.
Integrate ceilings: the magic of unifying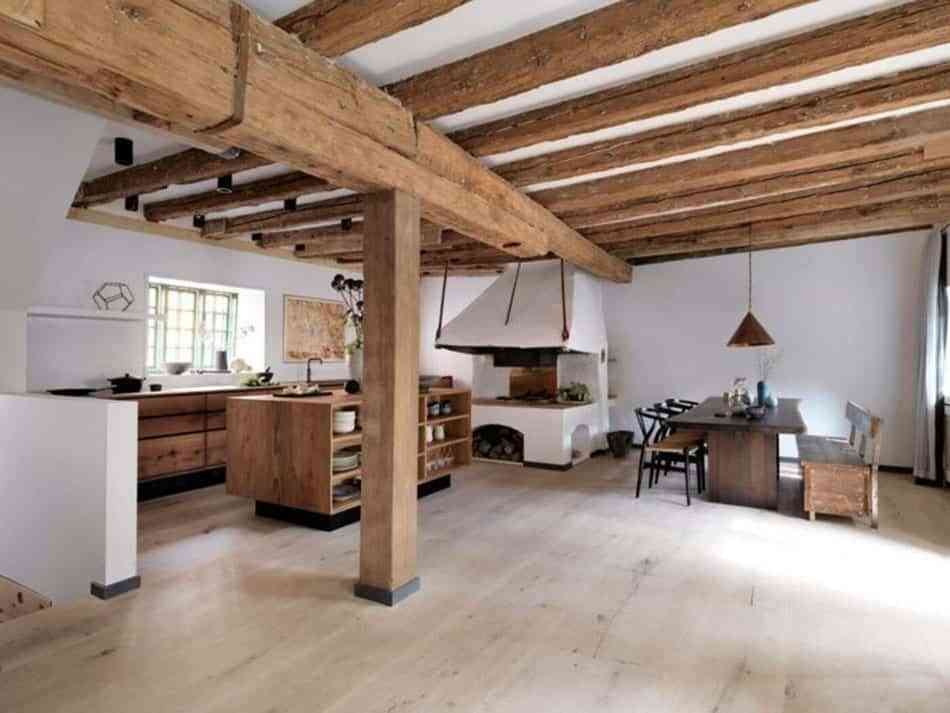 Integrating ceilings can be synonymous with unify some spaces of house. Did you think about it? Through them it is easy to make certain rooms look like a whole, and thus gain a sense of harmony. In particular, the most vivid environments, such as the salons and the versatile dining rooms are excellent candidates. Let's try with them. The idea may be to integrate the ceilings coating them with wooden slats To generate a beautiful continuous surface and natural.
Any type of coating of this material will bring a warm light difficult to achieve otherwise. Furthermore, a great choice from the point of view functional. We can be calm because it ages well and will help us to surround ourselves with a new acoustic and thermal insulation. If we decide to use wood to integrate the roofs of a kitchen or a newly renovated bathroom, the ideal is to apply a varnish that guarantees to keep in perfect condition its original tone and also give it a waterproof quality.
Maybe wood is not among our favorite materials. We are more of industrial finishes. Nothing like integrating ceilings betting on stainless steel solutions to unify stays who share the same scenario. Maybe an open hall to an industrial style living room with high ceilings. If there are close to light and large wood furniture wicker lamps, the decoration will be balanced in warmth and freshness.
Optical games that divide the space
Other times, integrating the ceilings brilliantly in a decorative project may consist of using them to separate environments, such as attractive optical resources. The usual thing is that we are used to playing with the home floors to achieve this goal. And sometimes, we may have dared to resort to the mobile walls to give our domestic interiors greater flexibility. Especially when we live in diaphanous or semi-apartments. But we do not usually stop to look at the top of these spaces.
Well, we can lean on them to visually delimit any area of ​​the house open and clear. The grace of this resource is the freedom it will give us to look for combinations that contrast a lot. With the originality that this entails. We may like it separate a reading area of ​​an American kitchen through a special solution. How about integrating the ceilings with wallpapers of geometric patterns? Go ahead with the idea.
In decoration, integrating the ceilings of the main rooms also allows play with the outside home and incorporate it into the interior. And more if we have a wonderful natural landscape to contemplate or a sea horizon. As simple as resorting to the same material to cover the ceiling of that room and the adjoining terrace, equipped with seats outdoor of trend.
Dim and mysterious lights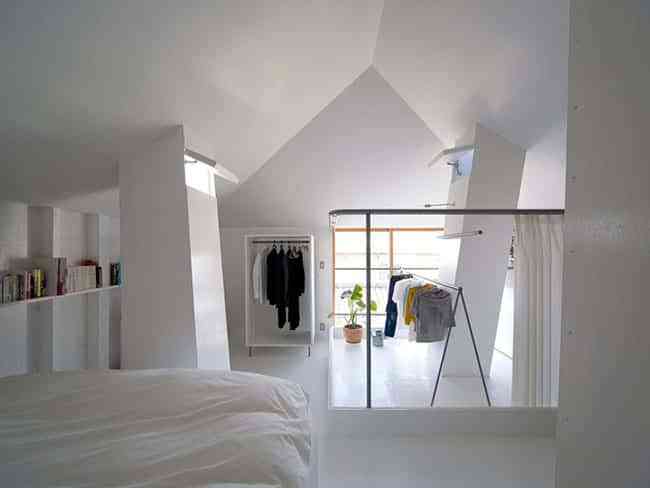 Whenever we look for ideas to integrate the ceilings it is necessary think about their way of enlightening them. We will be surprised by the magic they can provide if we find the right type of lighting. The best trick will be bet on indirect light here and there, without seeing the light source that generates it because it will be hidden. A false plaster ceiling is all that is needed to be able to give shape to this lighting, since it is necessary to hide in it the lights that we have chosen, hot or cold, what we like the most.
These indirect lights are an excellent formula to integrate the ceilings with a very modern elegance. They may be LED strips, or incandescent type and thanks to them they will be transformed into surfaces that emit homogeneous and continuous illumination, as discrete light baths. Maybe the challenge is to integrate the ceilings of that excessively long and high corridor that we have at home. Lights of this kind can be enough for the atmosphere to change without renouncing an illumination that lets see.
Irresistible in full color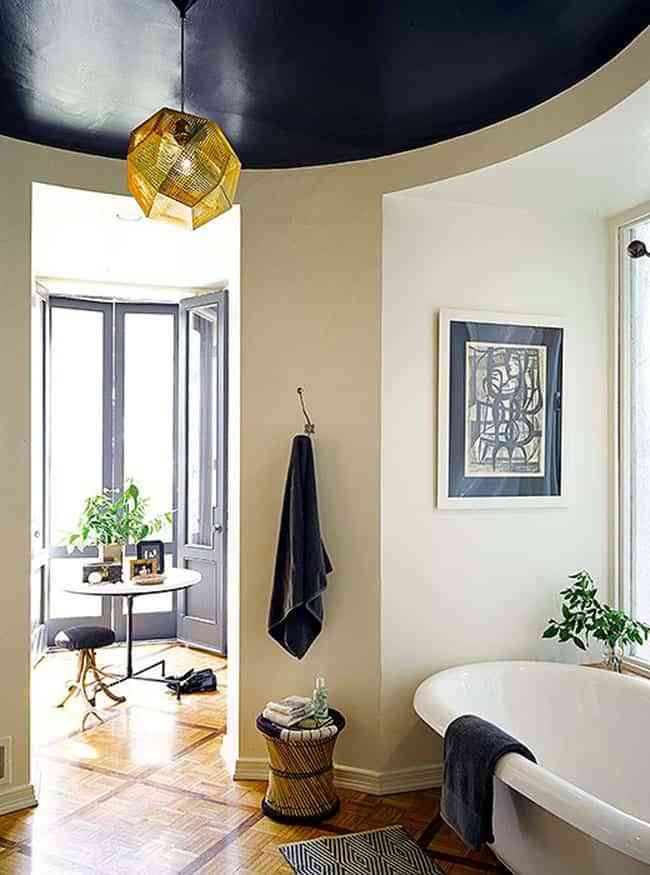 Color generates sensations and produces very successful visual effects in decoration. So that also It is a weight tool to achieve the integration of the roofs of any project with assured success. Banish white and ivory tones in search for proposals risky but stimulants. As a very tempting option. Through powerful and somewhat dramatic colors we will finally give a deserved role to these surfaces.
As long as certain aspects are taken into account before we embark on a thorough study of the chromatic palette. On the one hand, do not forget that there are cold tones, like the blues and violets, and other warm, like the whole range of oranges. And that effect will be reflected in the environment where we have decided to integrate the ceilings. In addition to dye the room with the chosen color. On the other hand, the idea of painting them using very dark tones is a unique opportunity to obtain disguise certain defects spatial, like the excessive dimensions of a room. Optically they reduce the height. It's a matter of letting us surprise and discover all that they bring.
Will you also dare?